Do you wish email marketing was as easy as sending a happy hour email to your colleagues on a Friday afternoon?
Unfortunately, it's a bit more complicated than that! As a small or medium-sized business (SME), you probably rely heavily on email marketing to nurture leads. From your subject line to your target audience, there are many factors that go into creating a successful email marketing campaign. Luckily, Happy Marketer has been there and now we're sharing our experience with you – what works and what doesn't.
Here are 10 reasons why your email marketing isn't working:
#1: Your subject line doesn't catch your reader's eye
What NOT to do: Do not write a long-winded subject line that will get cut off in your recipient's browser.
Here's an example of a headline that was just too long: Marketing Round-Up: Happy Marketer Updates, Breaking Digital News and Over 50 Curated Marketing Articles!
As a result, it achieved an open rate of only 17%.
What to do: Keep your subject line short, snappy, clear and exciting.
For example, our email with the subject line – Google Analytics 360 Suite is Here, and It's AWESOME! – received a 35% open rate.
#2: Your email is too text-heavy
Remember, human beings are visual! In fact, 40% of people respond better to visual information than plain text (Source: Zabisco).
For example, a purely text-based promotional email we sent resulted in an open rate of 16% while an extremely visual Chinese New Year (CNY)-themed email achieved an open rate of 48%!
What NOT to do: Use text-only eDMs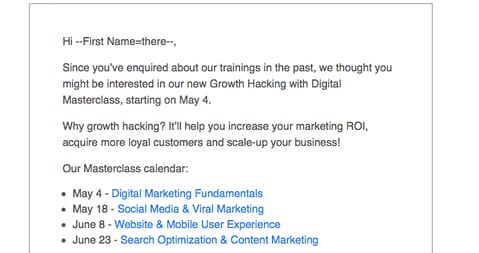 What to do: Incorporate strong visuals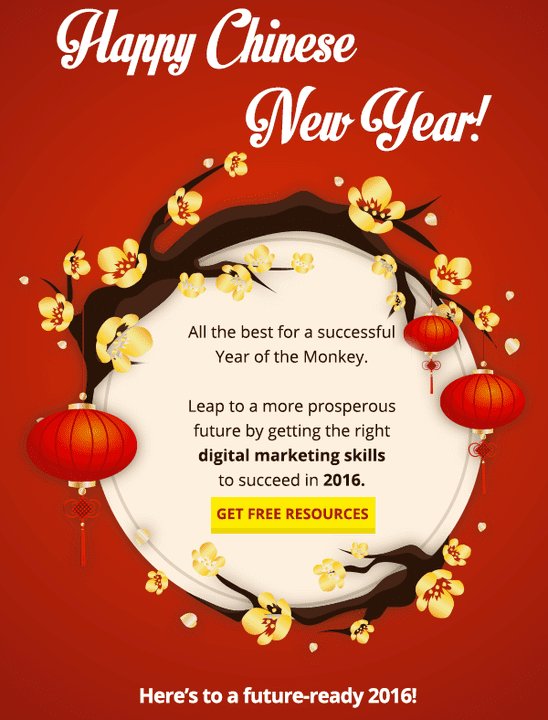 #3: On the other hand, you may have all images and no text
What NOT to do: Not all your readers can load images in their emails. To save bandwidth, they may not have the 'load image' feature. In that light, don't ignore alt text. If your reader cannot load images, he can at least read in text what the image is trying to convey. Services like MailChimp make it easy for you to instantly add alt text to images.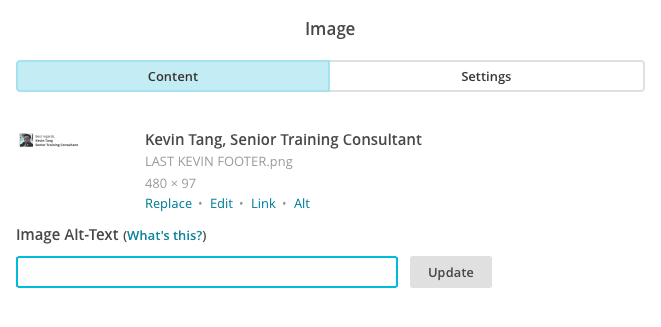 What to do: Experiment with a purely visual eDM and include a plain text option so that readers who can't load the image can at least enjoy the text.
#4: You've included too many hyperlinks
What NOT to do: Give your readers too many options and they won't know where to click! We sent a monthly marketing round-up that linked to over 5 articles. No single link received more than 12 clicks.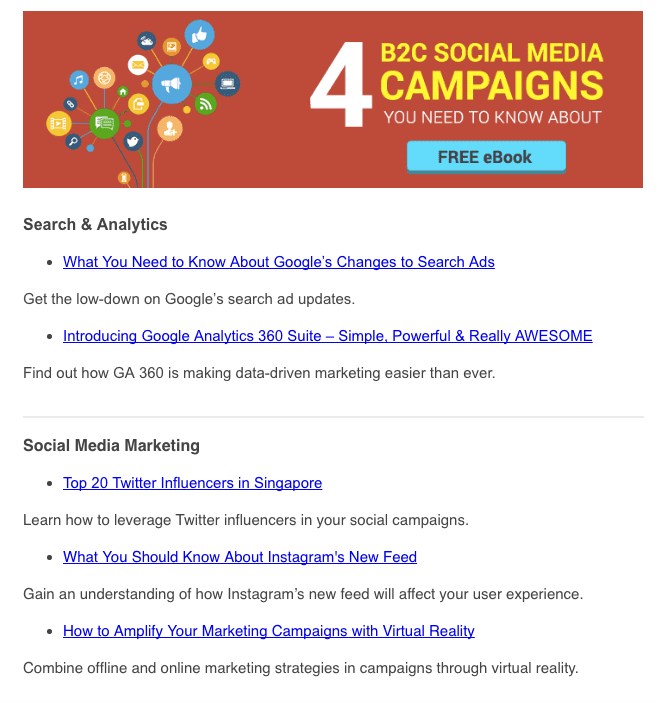 What to do: We sent an email about the new Google Analytics 360 Suite that contained just two links. The highest number of clicks on a single link was 44!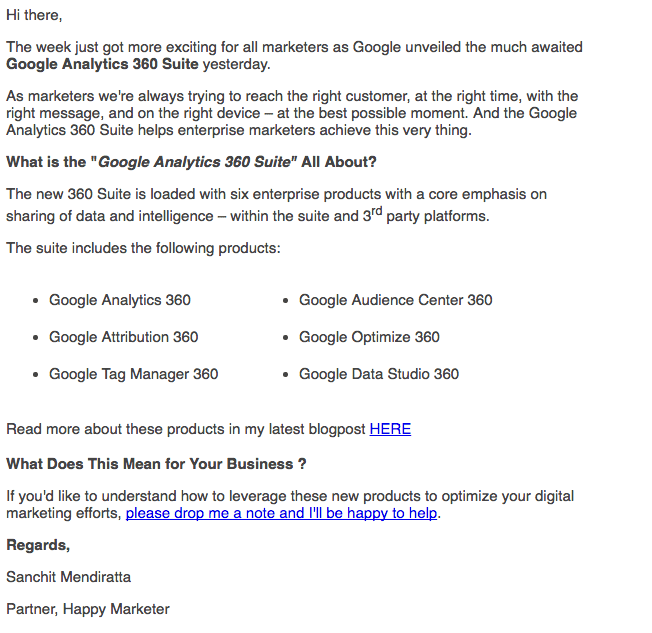 #5: You're not rewarding your readers with a "treat"
What NOT to do: People receive hundreds of emails a day. That's why they will only pay attention to yours if they are benefiting from it.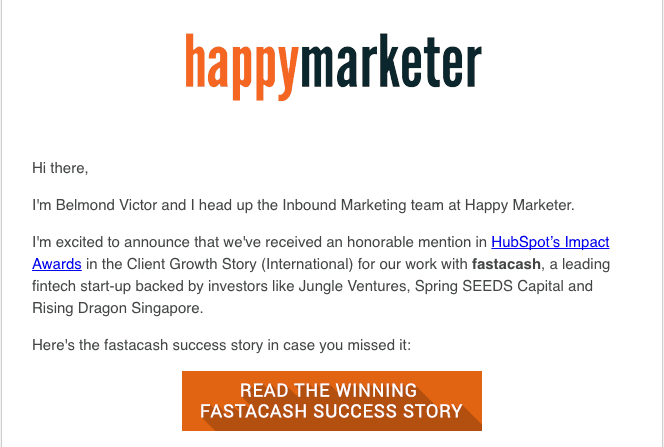 For example, we recently sent an email about one of our wins (an honorable mention in HubSpot's Impact Awards) but didn't spell out clearly what this meant for our audience. Their reaction might as well have been, "so what?"  As a result, this email achieved a CTR of just 1.2%, as compared to the industry average of 2.06% (Source: MailChimp).
What to do: Even in a 'wins' email, you can outline 1-3 benefits to potential clients and customers.
#6: You have no call-to-action (CTA)
What NOT to do: Do not write the CTA in plain text. It simply won't stand out and your recipients might read your email and close it because you did not define their next action. The email below, for example, didn't have a visual CTA, which resulted in a lower click-through rate of 2.92%

What to do: Always include a clear and prominent CTA button. Remember, human beings are visual! The email below, for example, had a bright CTA button with a clear message: Download Ebook. As a result, the email achieved a 4.16% click-through rate.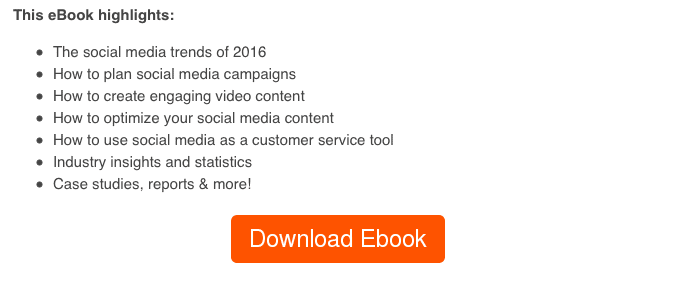 #7: You're targeting the wrong audience
What NOT to do: Never treat your audience as a uniform cohort. People are diverse! So, make sure to divide your audience into clear lists with different interests and personas.
What to do: During Chinese New Year (CNY), we sent the same, highly visual eDM to 4 different lists. The lists were very targeted – each database was matched to a unique sender. The result of this hyper-targeting? Our average open rate was 34%, almost double the industry average of 18.3%! (Source: MailChimp).
#8: You don't have your recipient's permission
What NOT to do: Spam! Emailing without permission or buying a list of email ids for your campaign is called spamming. This is bad for your brand and business, as you may lose access to your reader's inbox forever. Therefore, do not use an email tool to scrape or guess email addresses (like findanyemail.net shown below).

What to do: Always upload a list that has contacts you have corresponded with in the past, through phone, email, or in-person. In fact, automation software like HubSpot do not allow you to upload an unknown list in the first place.
#9: You don't test your email before sending
What NOT to do: Never send an email without checking hyperlinks. If your CTA button has a broken link, the entire purpose of sending your email is defeated!
What to do: Send multiple test emails to your team members. Sometimes, another person might be able to spot an error that you've glossed over.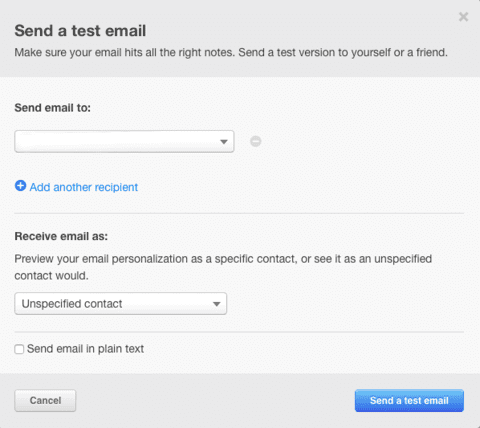 #10: You send too many emails
What NOT to do: Do not send eDMs on consecutive days. This will reduce the potential reach of both eDMs!
What to do: Maintain an eDM schedule. Decide how many eDMs you will send at the beginning of each month. This not only ensures that you don't spam your audience, but also allows you to organize your work.
Summary
There you have it. From content creation to audience targeting, we've given you do's and don'ts for the entire email marketing process. If you take away only 3 things from this article, it should be these:
People have short attention spans and several companies are competing for attention in their inbox. Stand out with an email that balances visuals and text and has a CTA button worth clicking on.
People are diverse and your email marketing strategies should be too!
Never be overconfident. Your email might be riddled with small errors that you can't spot but your audience will. So, test, test and test again!
Has this article made you determined to maximize conversions through your eDMs? Our conversion optimization services might be just what you're looking for.
Featured image source