Email forms a critical part of most marketing teams' daily workflow.
Collaboration with freelancers and teammates

Delegation of tasks to teammates

Tracking notifications from marketing apps and social networks

Processing incoming inquiries

Tracking newsletter opens, meeting invitations, and receipts
All of this happens right inside your inbox.
The natural drawback to this — our inboxes are almost always overflowing. An average professional receives 121 emails every day. A marketer is bound to get more.
Why does that happen — email was designed for you to communicate. Not to collaborate. Not to delegate tasks. Not to analyze your response rates. You get the idea!
As a direct result, marketers end up spending a lot more time in their inboxes than they would like. On top of that, team leads will find it hard to create accountability.
The pertinent question here is: How do we get around email's inefficiencies and build transparency without letting it hamper our work? You obviously cannot shut it down.
The answer lies in a system that allows teams to manage and collaborate on email without wasting time.
If you are a marketing team leader and use Gmail for business, here's why Hiver's Shared Inbox is the answer:
You get better at managing your time
You will be able to organize and prioritize incoming marketing emails with ease

You will be able to collaborate with designers, influencers, or publishing websites on proposals and quotations effortlessly, and without delays

You will easily delegate incoming marketing emails to your staff (without having to forward emails)
Your staff becomes more efficient
Your team will be able to handle/transfer email conversations among each other rather easily

The entire marketing team would know who is taking ownership of a task

Tracking performance of your staff (who is replying to what kind of emails and how long it takes them) becomes easy

Training and onboarding a new employee will be easier than ever
You build strong relations with external stakeholders
You will promptly act on emails from influencers, publishing websites, freelancers, prospects, etc

You will have someone remind you about sending follow-ups

You will never miss a meeting with anyone again
Now that you have a fair idea of the change Hiver's Shared Inbox can bring to marketing teams, let's understand how all of that actually happens:
1. Collaborate without adding clutter
As a marketing team lead, you often have to review things like posts, creatives, contracts, quotations, or meeting invitations, and provide feedback on email. This generally ends up in email ping pongs, only adding further clutter to your inbox. With too many of things battling for your attention, it is very easy to lose track. You might even end up missing emails. 
Hiver's Shared Inbox solves all of these problems with its Email Notes. Rather than forwarding entire email threads, it allows your teammates to add a note to an email explaining the context. This note automatically gets shared with you. You can then reply to the note with your comments or feedback. This way intra-team email conversations can be kept to a bare minimum.
The chat-like simplicity of Email Notes allows you to review email threads, add comments, and get back to your work faster. Moreover, it keeps internal and external conversations separate as it is visible only to your teammates.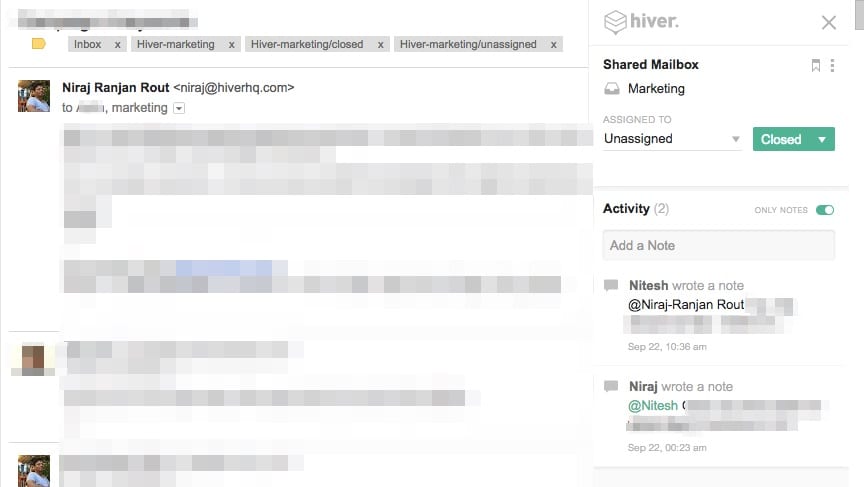 Bonus tip: In case you want a teammate to be notified immediately, you can add '@theirname' in the note.
2. Assign tasks and set accountability
What do you do when you want to assign an email to a teammate? Most marketing team leads just forward, CC, or use instant chat. However, this makes it hard to set accountability or track their progress. Neither you nor your teammates will have clarity about who is doing what and what's its status. This eventually results in uncertainty and discord.
With Hiver's Shared Inbox, you can assign or delegate an email as a task to your teammate in a couple of clicks. Furthermore, Hiver allows you to filter tasks based on their completion status (unassigned, open, closed, and pending) and based on who is doing what. This way you can track the progress of tasks and make teammates accountable.

3. Seamless employee onboarding
When someone joins your marketing team, often times, you would have to share a few email threads with them – could be past conversations or on-going ones. However, in Gmail, there is no easy way to share multiple email threads at once.
With Hiver's Shared Inbox,  all you have to do is, add the all the relevant email threads to a Gmail Label and make it shareable using Hiver's Shared Labels feature. The threads will get shared with the new employees in no time.  This way they will be able to get up to speed quickly.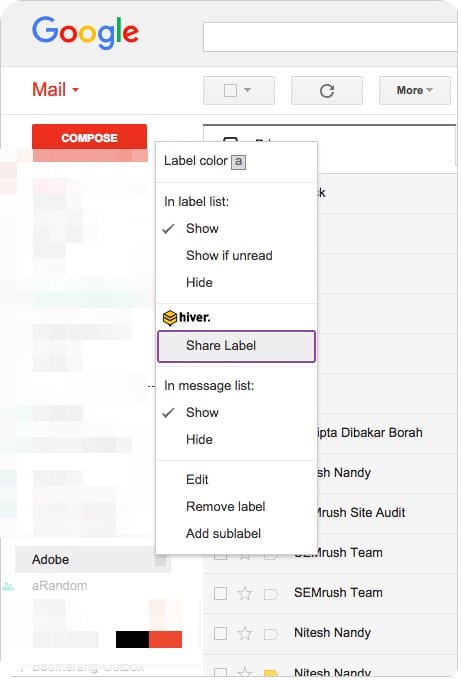 4. Schedule Email
Automation has become a big part of marketing these days. People expect you to reach out to them at their convenient time. Your engagement rates will be significantly higher if you follow this. However, there is no such feature in Gmail.
With Hiver's Shared Inbox, you will be able to schedule emails to influencers or prospects who live in other timezones right from your Gmail 'Compose' window.
Hiver's Shared Inbox also lets you snooze emails so that it comes back to the top of your inbox at later time or date. This way you will be able to deal with it when you want to. You can also use it as a reminder for when you have to write back or follow up with somebody.
5. Maintain consistency
Marketing teams often communicate with external stakeholders via email. In such cases, it is very important to be consistent. Even slight variations in statements can ruin your company's reputation. However, Gmail doesn't have any inbuilt feature to prevent this from happening. Again you would have to resort to email ping pongs to ensure consistency.
Hiver's Shared Inbox allows you to create email templates and share it with your teammates. This way you and your teammates can give a standard reply when faced with the same situation. It also saves time as users will be able to reply faster.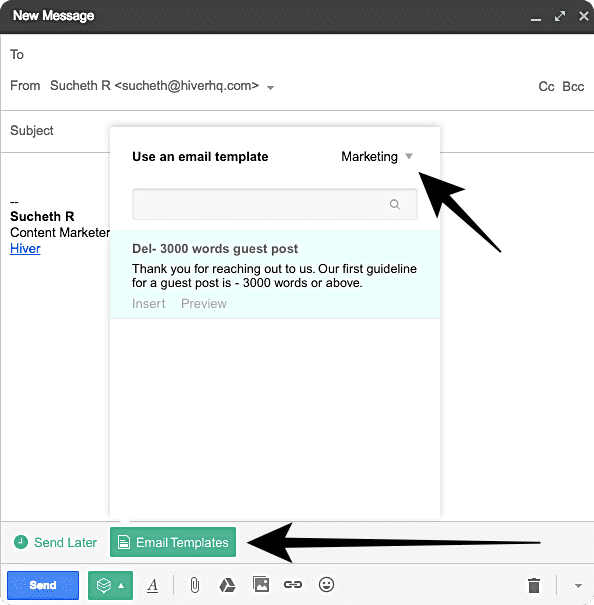 Wrapping up
As a marketing team lead, email collaboration may not be very high on your agenda. But, it should be. In the absence of a proper email management and collaboration tool, your team will end up working in silos or be forced to come with complex workarounds.
In both cases, your team's productivity will take a hit. Moreover, you will struggle to build a culture of transparency and accountability. End result – poor team morale and discord! You don't want that, do you?
So, get Hiver today, make marketing teams more collaborative.
Want to know how Hiver can help you
Want to learn more about inbox management? Here are three useful posts for you: