Cold emails provide you with a great opportunity to clearly target your potential clients – with writing and sending cold emails you can choose exactly who will receive your offers and focus on individuals who can be of great importance to your business.
Writing cold emails can be an extremely effective prospecting tactic, but only if you know how to compose them.  Getting emails read is one of the greatest challenges in sales today. As more and more people abandon the phone, email has become the ideal platform for reaching out.
Here you will learn how to properly mail people and master a skill that will set you apart from others. Whether you're writing "direct" or "referral" email, it should be low on commitment – simple to understand, easy to answer.
Here's a list of the most common mistakes people make when composing cold emails and easy fixes that you can apply to avoid them.
1. You fall short on research
If you don't know the name of the person you're reaching out to, you haven't done enough homework to know that you're emailing the right person in the first place – so the first important step is to know your target!
Unless your message is received by the right person, your chances of success will be slim, so, for example, don't send a cold email to the sales agents if you want a reply from CEO of the company. Do your research first (go to LinkedIn, check their blog or website, Twitter account etc.)
Furthermore, get informed about your potential clients' needs – if they're searching for the expert like yourself, you should, by all means, include that in your email, politely offering your expertise or services.
2. You avoid introductions
The first sentence in a cold email is critical because that's what people see in their email preview. Keep in mind that most busy people won't even open the message if the email preview looks dull.
Frame your mail in a way so the people can see how your offering helps them – they care most about saving time, saving money or making money!
The first email should always be about your prospect, not you. So instead of using "I" and "me", rather use words like "you" and "your".
3. Your subject line is inappropriate
Use an appropriate cold email subject line to attract the attention of a potential client which may lead to a positive response and develop a solid business partnership. Email subject lines should be as direct as possible – state exactly what the recipient will find interesting inside the mail, and try not to be mysterious if you want your email not to be discarded as spam!
Your subject line shouldn't have more than 7 words and it should reflect the reason you want to connect with a potential client. If possible, list a number in the title to suggest the commitment time (example. Three immediate solutions…)
4. Your cold emails might be too long and confusing
People in general hate reading lengthy emails so you have to keep your messages short and simple, preferably 4 sentences or less.  Also, don't list more than one or two features, offers or benefits if you don't want to confuse or bore your prospect.
If you've been sending cold emails that haven't been seeing a great response, make sure that messages you are sending aren't overwhelming. Underline the important and trim the unnecessary information.
Don't make your email look like a newsletter with tons of images and attachments. You'd rather concentrate on suggesting how you can help the client, and being specific about your goals.
5. Your questions are hard to answer
If people don't know you, they won't bother answering open-ended questions, so you have to make them easy to answer.
For example, instead of asking 'What are your challenges this year?', you should better ask something more concrete like 'How many salespeople do you have?'
A good cold email should be replied within 60 seconds.
6. Your emails are not personal
Your emails should sound personal if you want to draw the attention of the reader. Some of the things that you can do are, for example, mention recent news item relevant to them or their business, or refer to something unique about their company to demonstrate your understanding of its competitive advantage.
People hate to be templated – show that you've done a research on the company and inject it smartly in the 2nd paragraph of the email. Use the person's name instead of "Hi" " or "Dear Sir/Madam", if you want them to pay attention to your mail.
7. Your calls to action are vague
Many salespeople end their emails with "Let me know if I can help." But what does that really mean? You should be clear and direct about what you're asking for. Instead of "I'd love your feedback," ask "When would be a right day this week for a 15-minute call to discuss?", or even more concise 'What do you say for a 15-minute call on Wednesday @ 13.30 CET?'.
If you don't give your prospects clear instructions as to what to do next, you're wasting your time doing cold email. Make sure you don't leave them confused or uninterested.
8. Your cold emails look like spam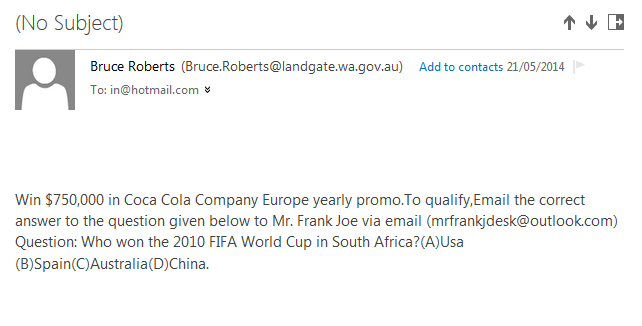 Try to avoid all the clutter, and reach for the simplest possible formatting:
Say Hello, use their name
Stick to default font type, color, and size
Use line breaks and short sentences to make the email easily readable
Don't send attachments
You can also use this tool to check the spammyness of your cold emails.
9. Your words sound unnatural
It's good to sound professional, but don't end up sounding like a robot! Write your emails like you're having a face-to-face meeting. Have someone else read it out loud to you to get a sense of how it sounds.
Use a conversational tone (be the person one would love to talk to)
Don't suffocate the potential client with tech jargon and buzzwords (simply explain what you can do for the person or the company)
Formal and defensive language is inappropriate – (phrases like "thanks for consideration" or "looking forward to your positive answer" indicate your lack of confidence).
10. You use a lot of exclamation marks!!!
Avoid writing emails where every single sentence ends with an exclamation. You might have the impression that it's driving home to the point, but in fact, it's putting up a flag saying that you exaggerate.
Make your words believable. If you say, for example,  that you liked your potential client's  article, explain how you applied it ( "I loved your post about X, and since I read it I  increased the number of visits to my site two times).
11. You send only one email
Don't send only one email and assume they are not interested if they don't respond. Although this may be logical, and they will initially feel like they somehow got on a list or you're sending them a blanket email, when you follow up with them, they'll start to understand that you are contacting them directly and want to help them specifically.
Send these emails every single day if you want to reach measurable results. For example, you can offer something valuable that justifies your credibility ( a blog post, a free e-book…)
Also, the moment you get a reply, ensure you or someone from your team starts talking to them without losing much time. Use a shared inbox so that everyone has access to these emails; you'll be able to manage the entire process better that way.
Wrapping up
Besides being an inexpensive method to meet new people valuable to your business, cold emails are a great tool to introduce your company to potential clients. You can introduce products, services, and skills to other business owners who might be interested in doing business with you. Avoid these common mistakes that many people do, and make your cold emails a valuable foundation to creating and building successful business relations in the future.