Here's a question for a project manager:
When was the last time your team dedicated 100% of their time to a single project? Probably never.
Realistically, teams are expected to work on multiple projects. What has changed is that projects are limited to teams as opposed to organizations. The pressure to deliver maximum performance with minimum overheads has led to the preference of small teams over large groups.
It seems 'multiple projects run by small teams' is becoming the defiant structure for modern day businesses. Interestingly, no one is more enthusiastic about this trend than team members. In fact, 42% of employees working in smaller teams feel 'engaged' at work.
With the right structure and team mentality in place, all a project manager needs is a communication tool which allows seamless collaboration. Most businesses see Gmail, a cost-efficient platform which requires very little learning, as the preferred communication tool.
But, between you and me, we know the truth. Gmails bring in more problems of coordination than benefits of collaboration. Multiple projects involve a tedious to and fro of emails, creating chaos at an unprecedented scale. A traditional Gmail cannot scale with the needs of your business. That said, abandoning Gmail isn't feasible either — its affordability, familiarity, and security still remain unmatched.
Hiver is the simple answer to this dilemma. With a zero learning curve, you can keep the training cost down while teams can seamlessly collaborate straight from their Gmail. Hiver removes the limitations posed by a traditional Gmail, allowing it to scale with your project needs.
Let's dig in to know how Hiver can help a project manager overcome email lapses.
Hiver helps project manager overcome email lapses
Email lapse #1 Task assignment is not robust
Small teams require an efficient task assignment process to manage multiple projects. A failure to do that means tasks will keep accumulating in the project mailbox without anyone actually working on them. Such is the case for many businesses.
Generally, a project manager is in charge of assigning tasks to members. Part of their job is to forward emails from the project mailbox to a member's inbox for delegating tasks. Considering the volume of incoming tasks, members are left with messy inboxes. As a result, emails are lost in the clutter.
Hiver lets you assign tasks with just two clicks
The foundation of any successful project is how well a project manager delegates and manages tasks. Located right in your email, the Shared Inbox sidebar centralizes your entire task management process. 
1. Project manager is in control of the task delegation process
Managers can take a permanent break from forwarding emails for assigning tasks. Simply select Shared Inbox to specify the department. For eg: design, engineering, etc. Choose Assign to and select the name whom you want to delegate the task to. The assignee's name will be visible right next to the corresponding email — every team member knows who's working on what.
2. Managing cross-functional teams becomes a breeze
With multiple shared inboxes, a project manager can efficiently manage cross-functional teams. One click and you can view the tasks each team is working on. On the left-hand side panel, choose the shared inbox (department) and click Team to access all assigned tasks.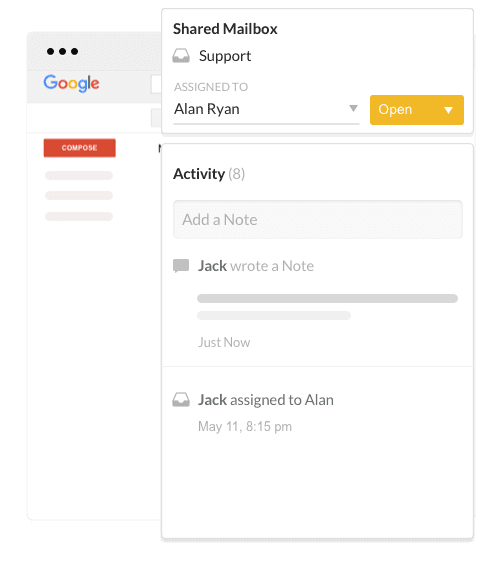 Email lapse #2 Email ping pong for every little conversation
As a project manager, you have to be part of every team conversation, even the most trivial ones. Team chatter that includes meeting reminders or welcoming a new member, contribute to inbox clutter without adding any unique value to ongoing projects.
As a result, it becomes difficult to separate the important conversations from the trivial ones. You have to invest additional time to sort your messy inbox for filtering out important emails ― the ones which result in decisions.
Manage team conversations with Hiver
Email Notes allows you to converse with teams without having to send or forward emails. You can carry out every little or big discussions right next to the corresponding email. The very fact you don't have to send or receive emails keeps your inbox clutter-free.
Use Color Picker to highlight important pieces of conversations by assigning a special color. You are able to weed out relevant information from the trivial ones while being actively present in all team communications.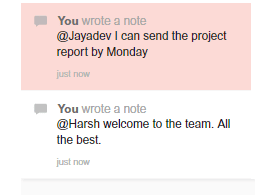 Email lapse #3 Strains relationships
Say, a client needs some information on an old project. If you are one of those who organizes emails in project folders on your Gmail, retrieving older conversations will be a pain. You will have to go through a pile of emails in order to locate the specific conversation. It's likely you will fail at giving clients what they asked for.
Building strong relationships with clients requires a system wherein teams can easily revisit 'communication history'.
This extends to teams as well. Especially, when new members are brought in as replacements for absentees. Since there is no easy way of going through previous communications, it becomes difficult to play catch up with the rest of the team. This kind of dysfunctionality leads to team conflicts, jeopardizing interpersonal relationships.
Get your communication history right with Hiver
It's sales 101 'Always remember the interaction you had with a client' why? Because remembering important information is how relationships are built. The same principle applies to you. But, with multiple projects and only a small number of people, it's humanly impossible to memorize past conversations.
Being a project manager, you need a resource from where communication history can easily be looked up. Split labels into 'Project labels' and share with relevant people — they will now have access to all emails under that label. Once a project is completed, archive the labels. The archived labels act as a knowledge bank for teams to easily look up past conversations.
The resource is equally helpful for new members as well. Easy access to communication history allows them to pick up from where the last person left off.
"Hiver has consolidated our team's communications into a singular communication resource, allowing us to dynamically respond to our numerous clients with the full communication history regardless of individual's specific correspondence." –  Travis Michael, Principal at Green Dinosaur Inc.
Immediate benefits to a project manager
All that effort to overcome email lapses is of no use if it doesn't expand your capabilities as a project manager. Having a unique vantage point will automatically buy into your projects. After all, a ship is only as good as its captain.
Hiver puts you in the driving seat, allowing to take charge of projects and the teams running it. Get complete access to what teams are doing and where they are with each project. By understanding ground realities, you can make decisions that stick.
Essentially, Hiver helps you transcend the role of a project manager to a successful leader.
Makes you a hands-on leader
There was a time when every project manager followed a strict hierarchical structure. Information and decisions passed from top to bottom, that time is long gone. Today, the demand is for hands-on leaders who are on the same page as their teams.
Often, it's difficult for decision-makers to be actively involved in different projects at a given time. Lack of involvement by senior executives is the reason why 33% projects fail.
Hiver offers an open line of communication at all times. Skim through the Activity Timeline to gain insights on the latest project developments. Use the knowledge to offer relevant inputs to steer projects in the right direction.
Active participation at the base level puts you in tune with your teams. You are in a better position to address team concerns and feedback.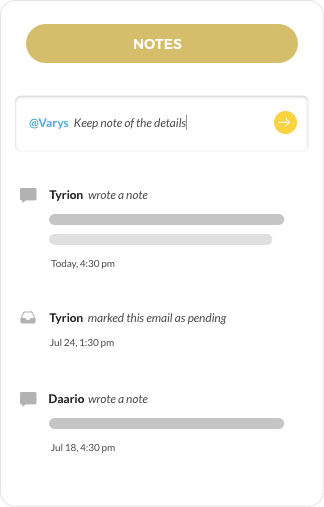 A culture of accountability
If you need to check who's working on what, you will have to go through a long chain of emails spanning across multiple projects. Does it sound feasible? I didn't think so.
Hiver helps you know exactly which member is working what task. On the left-hand sidebar, click on Team. Being the admin, you can view the names of each member. Select any one of them to view all the tasks assigned to that particular member.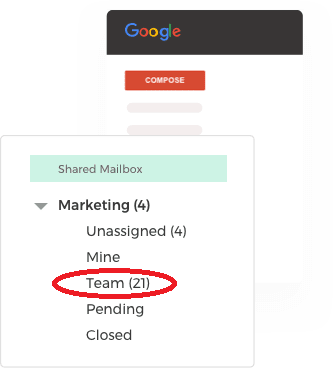 Being a driver of accountability generates credibility. You are seen as a sought-after project manager among both teams and clients; less time to convince stakeholders — quick decisions. What more can you ask for?
"What I love about Hiver is the visibility it gives me whether I am at my desk or on the road on my phone. At a glance, I can see what people are doing, how customer service issues and projects are progressing and being completed. We all love how easy it is to collaborate" – Carl Mallory, Founder of Mallory Custom Lighting.
Saves time
If accountability helps you save time in the decision-making process, automation helps to do the same for clerical tasks.
Automate clerical tasks by creating conditions. Any email communication which meets these conditions will perform a specific action. What those actions should be will also be decided by you.
Say, emails relating to clients asking for project status should directly be sent to you.
Follow these steps to set up an automated email communication:
Step 1 – Specify Automation name. Preferably the client's name. It's easier to look for them (among a stack of automated tasks) when you want to make changes to automation settings.
Step 2 – Select Subject. This refers to the email subject line.
Step 3 – Choose Equal to or Contains. Equal to means the email should meet the exact condition. Contains will select emails where conditions are visible but are not in the exact form.
Step 4 – Type into the Condition text box. Establish the criteria under which automation will take place.
Step 5 – Establish action. Choose Assign to, select the project manager and mention their email id.
Congratulations! You have successfully automated your email communication. Now any email which has a subject line containing 'Project status' will directly be assigned to the project manager's inbox.
Become your client's favorite 'project manager'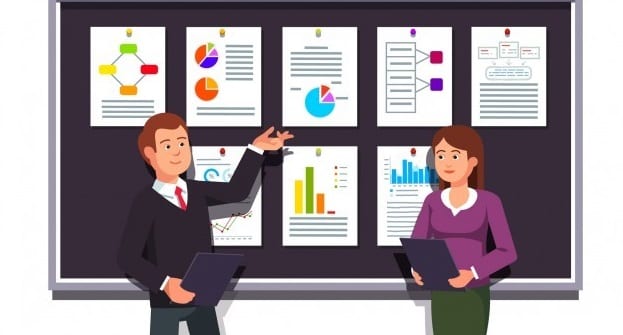 Many managers wake up in the morning and think 'How can I make my project successful' — wrong question.
To become a truly successful project manager, the question you should be asking is 'How can I help clients become successful'.
If clients know their success is directly related to your efforts, you will always be their favorite project manager. That's why every project management tool should directly or indirectly add value to your client's success.
Hiver ensures the beneficiaries of any project should be your clients. It allows internal and external stakeholders to communicate and collaborate seamlessly, making sure everyone is taken care of.
Let's dive in to know how you can bring value to clients:
Managing change requests
While running multiple projects side by side, you can expect a bunch of change requests from various clients. You need an efficient system to ensure all change requests are clearly communicated, otherwise they will never be implemented.
The consequences of mismanaging change requests can be felt long after the life of the project. Apart from having a serious impact on project deliverables, it will strain your relationships with clients.
To avoid the repercussions, stop seeing change requests as needs and start treating them as Commandments ― skipping them is not an option. This requires client facing managers to be on their toes 24/7 so that every request is addressed.
However, we understand it's not easy going through each client commandment in the mailbox. There is a good probability these emails might get unnoticed by client-facing managers. Fortunately, Hiver sees to it that doesn't happen.
At the left-hand sidebar, managers can use the Unassigned option to look at all the emails which are in the mailbox but have not been assigned yet ― no commandment goes under the radar. Efficiently managing change requests enables you to provide better client service.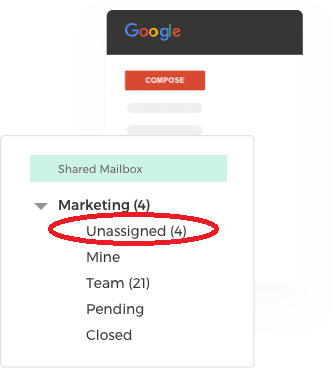 Don't have to ask clients for increased budgets
Lack of communication is often blamed for projects going over budget. Misunderstandings during planning stage lead to poor task execution. Correcting these tasks can cause time delays, resulting in projects going over budget. As a result, you have to put extra pressure on clients for retrieving additional budgets.
By using Notes, you don't have to backtrack on such projects. To send important information to all members in one go, add @all and then write your message.
It keeps your business proactive right from the project planning stage, avoiding a situation where you have to ask clients for additional resources. Since fewer than a third of the projects are completed on time and on a budget, you gain a competitive edge.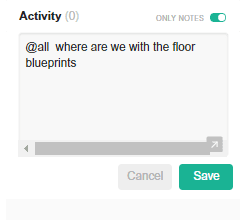 Want to know how Hiver can help you?