Human resources teams will always receive a deluge of emails — job applications, payroll questions, review requests, employee feedback, insurance queries; the list is endless.
How you handle these emails will decide how much time you're left with to get your actual work done.
When you have to spend a lot more time managing emails than you had initially planned, you have less time to work on tasks that are actually critical.
Whether we realize or not, managing emails takes away a huge chunk of our time every day.
I am sure you'll relate to this:
You have to log into multiple email accounts to manage emails — [email protected], [email protected], [email protected]

You forward emails to your teammates to delegate tasks and wonder if they have started working on it.

You have to send email reminders to schedule interviews because your first email got lost in their inbox.

You have to constantly remind interviewers to know what happened about the candidate they met.

You have to keep sending emails with the same review questions to managers across teams.
Now that's too many emails!
Well, the good thing is that all of these problems cease to exist when you've got the right tool to manage your emails. Even better when all of it can happen right inside your Gmail inbox.
You've got to start using Hiver. Allow me to tell you why:
When you use Hiver, you can create shared inboxes for your email accounts such as [email protected], [email protected], and [email protected]
By doing this, you get the ability to access and manage these shared inboxes from your Gmail inbox itself. You will no longer have to log into multiple accounts — the same goes for your entire team.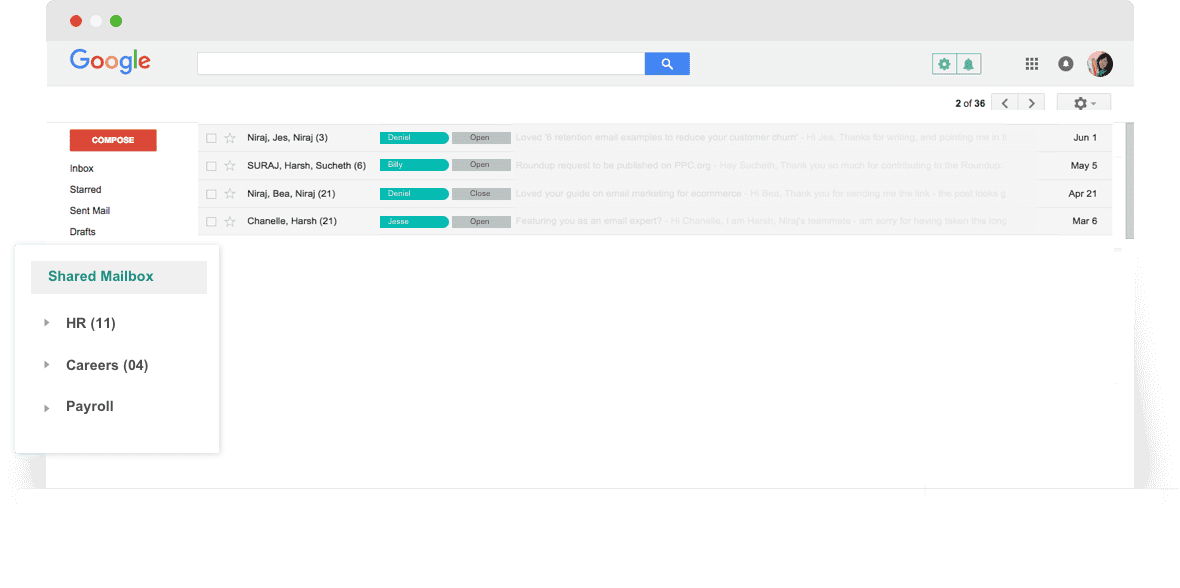 You'd love this: When you use Hiver, there's no limit to the number of users you can add to a shared inbox. Google, otherwise, does not allow more than 25 users to access a shared email account.
Delegate emails to teammates effortlessly (and track them)
You receive a job application at [email protected] email address and want someone from your team to take the up the discussion with the candidate.
Hiver lets you delegate emails to your teammates without having to forward them. All it takes is two clicks.
Your teammate can start replying on that email thread the moment you assign it to them. You do not even have to CC them.
Also, every time you want to know what happened to an email you had assigned to someone, you will not have to send another email reminder.
Hiver lets you set a status for every email, and it is visible to the everyone in your team.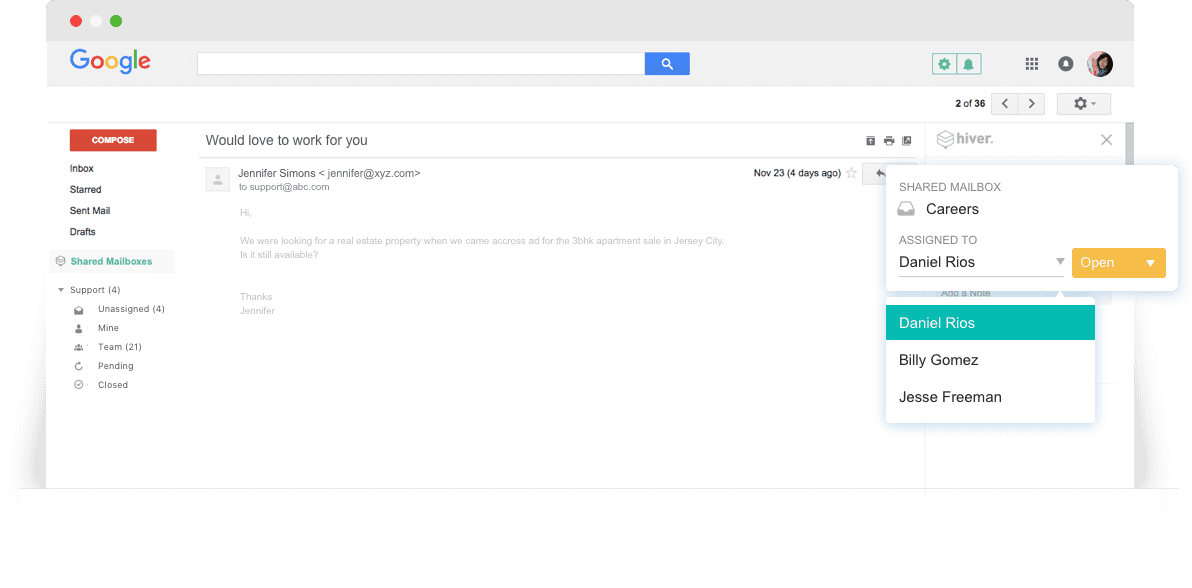 Share Gmail labels with your team
Gmail labels are a lovely way to organize and categorize emails. I am pretty sure you use them already.
Hiver makes Gmail labels a lot more useful — you can now share them with your team. When you share a label with someone, they get access to all the emails with that label. No CCing. No forwarding.
You can create labels such as Payroll, Reimbursements, Benefits, Insurance, Interview, Reviews and share them with the people who would need that information.
For example, here's how you can use Shared Gmail Labels during the hiring process:
Apply

Schedule Interview

label to an email

and share it with your teammate who coordinates with candidates.

Apply

Interview: Richard

label to an email and share it with Richard when he is the one taking the interview.

Apply

Send offer letter

label to an email and share it with your teammate who sends out offers.

Apply

Keep on file

label to candidates you'd like to talk to again in the future.
You can create labels for pretty much anything you want and share them with the person who needs that information.
Communicate with your team without sending emails
You receive a resume and want an opinion from the head of your team who sits in a different location.
You can send them an email, but it clutters everyone's inboxes.
You can use Hangouts. But, if the other person takes a few hours to reply, you will have to find the candidate's email again before you can actually use the information. Sheer waste of time.
And that is exactly what you need Hiver's Email Notes. Write email Notes to your teammates —  they get a notification and reply to you in the same box — right next to your email thread.
Email Notes stay next to the email thread forever in case you want to go back to it in the future. No more emails for internal communication.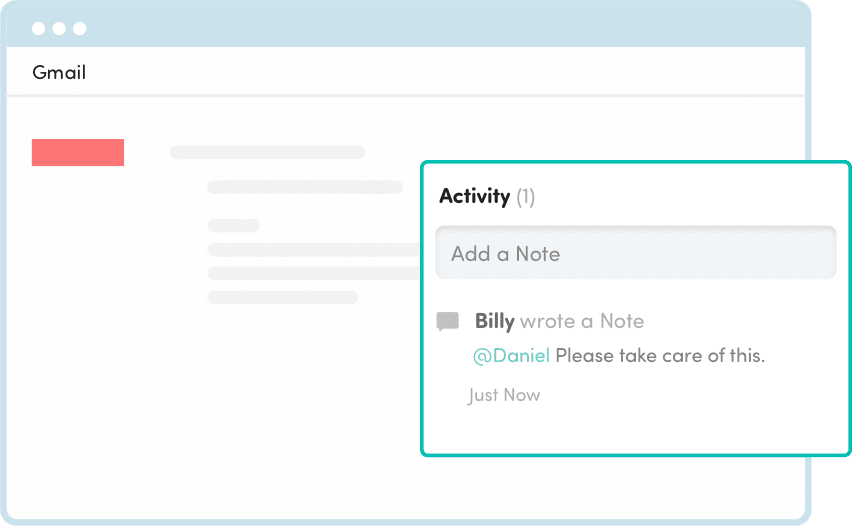 —
And that's not it. There's more you can do with Hiver:
Auto Response: Set up your Shared Mailboxes to automatically send responses when a new email is received.
Email Templates: Save usual responses as email templates. Embed into replies easily, and share with your team.
Email Reminders: Snooze email away and have them come back to your inbox at a later time. You will never forget to send a follow-up email.
Send Later: Schedule emails to be sent at a later time.
Learn more about Hiver
Request a demo
Sign up for a 14-day Free trial