2016 is on its final lap; I bet holidays are the only thing on your mind. Sorry to be a spoilsport, but what about your holiday email marketing campaign? Have you set up anything special yet? Are you ready to do something others aren't?
If your answer is no, your holiday campaign will probably find it hard to stand out. Sending 'just another holiday email' is not good enough anymore – folks just won't open it.
Not convinced? Check these stats:
The proportion of brands sending holiday-themed emails in 2015 increased by 13.4%.
The open rates of holiday emails dropped by 5% in 2015 compared to the previous year.
Open rates decreased by 13% during Q4 2015 at a time when there was a 29% spike in overall send volume.
1 in 3 retailers dedicates 31-50% of their total online marketing budget to holiday efforts.
Despite the powers of social media, 72% of consumers prefer to get promotional materials or content via email instead of Facebook and Twitter.
The bottom line is – the competition is intense – inboxes are getting more crammed up than ever. To get noticed, your holiday email marketing campaign has to stand out. Otherwise, you can forget about cashing in on the holiday shopping hysteria.
That said, there is no need to panic. You still have time to ensure that you are not left behind.
Here some things that you can do now to increase your holiday email marketing campaign's engagement:
1. Start small and keep testing
With the ever increasing number of holiday emails, the chances of your email going unread or getting marked as spam are high. To make things worse, ISPs are constantly monitoring changes in emailing patterns and subscriber engagement. A sudden variation could see your emails ending up in spam folder or promotions tab. So, along with conversions, email deliverability too could take a hit.
Hence, before ramping up the efforts, your holiday email marketing templates should be tested thoroughly. Here are a few tips to ensure their effectiveness:
Test only one element per batch.
Variables that need to be tested include – the offer, headlines, subject line, pre-header, CTA's color, and size.
Keep an eye on metrics like open rates, CTRs.
Ensure that you test your list segments too.
"Do A/B testing of subject lines right up until the very end of the season, there is always time to make it better" ~ Alyssa Nahatis, the director of Deliverability for Adobe Campaign. [source]
Here's a guide on how to A/B test your holiday email marketing campaign.
2. Go for an email series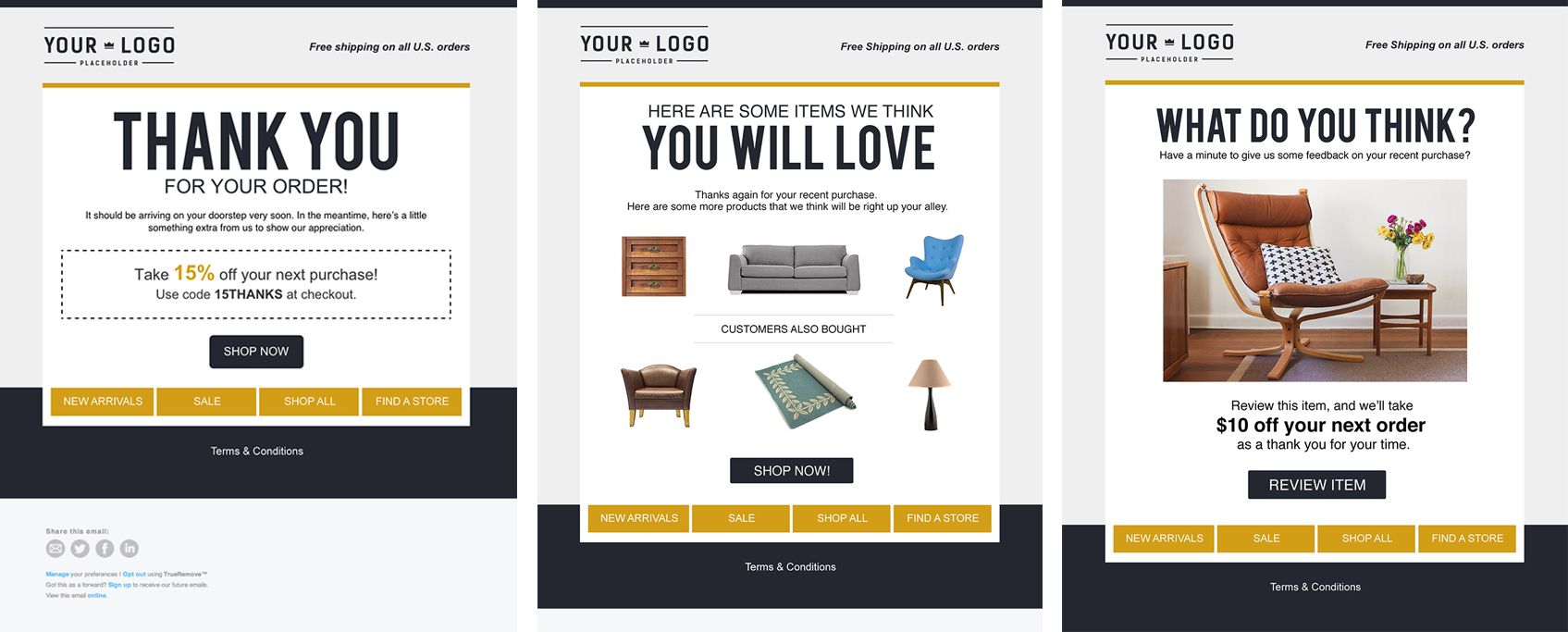 The holidays are a busy period and most of us find it hard to stay on top of everything. It's the same with your customers – one-off emails may not be effective enough.
The best alternative is to create a holiday email marketing series. Not only does it increase the chance of your email being seen, it also helps generate excitement, anticipation and connect better with your subscribers.
Points to keep in mind while creating a  holiday email marketing series:
Prior to deciding the number of emails and the schedule, find out the email tolerance levels of different segments (based on test results and historical data).
Ensure that each email fits into the overall storyline.
Promote social media sharing by offering insider info, early access as a reward.
Ensure that the first email in the series is like a teaser of what's coming.
Once the offer is live, ensure that you send a reminder.
After the wrap-up, don't forget to thank your customers for being part of your brand.
The unsubscription rate might be higher than normal owing to the sudden change in frequency – it is better to inform the subscribers beforehand.
Here's a guide on how to develop an effective email series.
3. Focus on the benefits/rewards/savings
As the competition is intense, it is not just about providing something of value. Rather, it is about ensuring your offer stands out from the crowd. Therefore, the focus should be on what the subscriber/customer will gain out of it.
For example, as part of your holiday marketing campaign, you plan to offer 30% off on your premium product to free users. To be a success, the spotlight should be on the benefits of being a paid user and the money that could be saved.
Check out this brilliant email from Grammarly that I received for Thanksgiving. There is an obvious focus on 'low price' and how it will improve your writing.

4. Spread the holiday cheer with your triggered emails
If you haven't setup any triggered email campaigns yet, you better get to it. They are a must-have in your marketing arsenal because of their relevance and timeliness. They help increase sales by encouraging repeat purchase, engaging with new and inactive customers, and recovering abandoned carts, out-of-stock situations.
With the holiday season fast approaching, its importance only grows. Ensuring that you update all your triggered campaigns to reflect the holiday spirit, makes them warmer and welcoming.
Here are a few tips to keep in mind:
Add seasonal imagery to the header and footer.
Ensure that your emails reach customer's inbox faster than usual, especially the cart abandonment and back-in-stock ones.
Make it easier to access information on offer expiry, shipping details, store hours, and return policies.
Ensure that your branding doesn't get overpowered by all the seasonal imagery.
Here's a nice example from Walmart. See how they brought a Christmassy feel to the welcome email.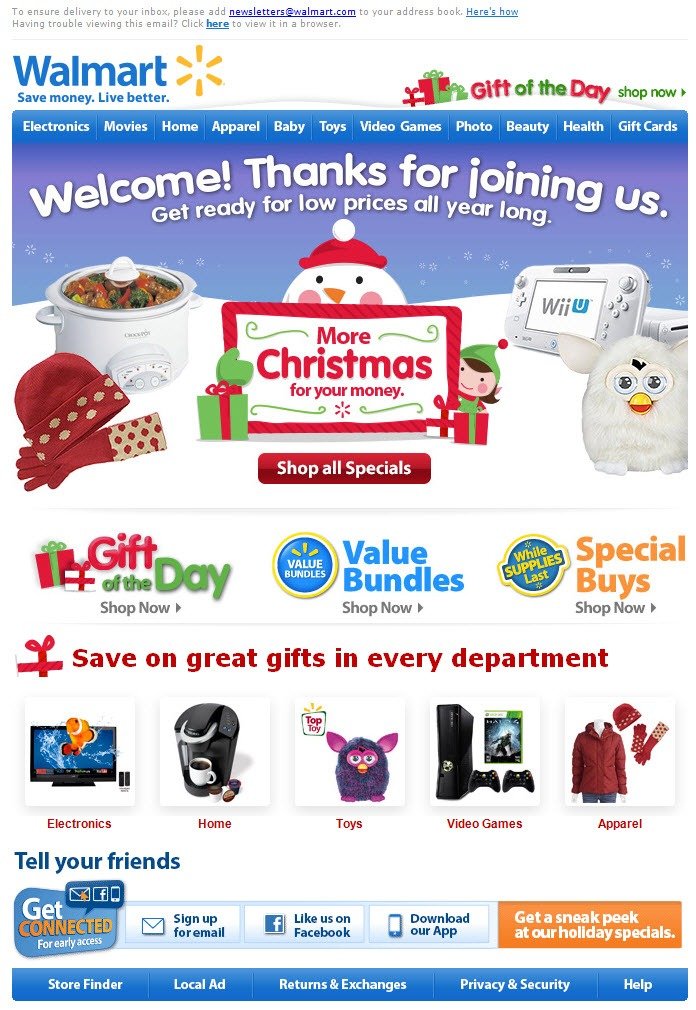 [Source]
Here is a list of triggered campaigns that you should set up for this holiday season.
5. Use preview text to support your subject lines
I've tested the crap out of preheader efficacy, and it can move open rates quite a bit, as you get a chance to extend your offer from just the subject line into a more detailed call-out. ~ Jeremy Smith, Senior product marketing manager / email strategy at Yammer [Source]
Preview text is quite an underrated element. A lot of people don't bother to optimize it, as a result we end up seeing URLs, technical gibberish etc.
Check out the example below, statements like 'if you have difficulties viewing this email', can turn off the reader quite easily, as it is not relevant to the context.

We need to remember that along with the subject line, preview text is the first thing that comes to subscribers attention in the inbox. With almost half of all the emails being opened in mobile, its relevance has only grown.
To ensure your campaign stands out in the inbox especially with all the holiday clutter, preview text must be optimized. Make sure it is meaningful, visible, fun, informative, and complements the subject line.
Here's a neat example:

[Source]
Here's a guide to preview text optimization.
6. Create a sense of urgency
There is already a sense of urgency around the holidays; your campaigns should focus on instigating it further, and nudge customers into action.
The key here is to convey it clearly and in a particularly noticeable manner. With every reminder, the aim should be to further eliminate the chances of procrastination.
Here are some examples:
Deadline-based
Compel readers to act by conveying scarcity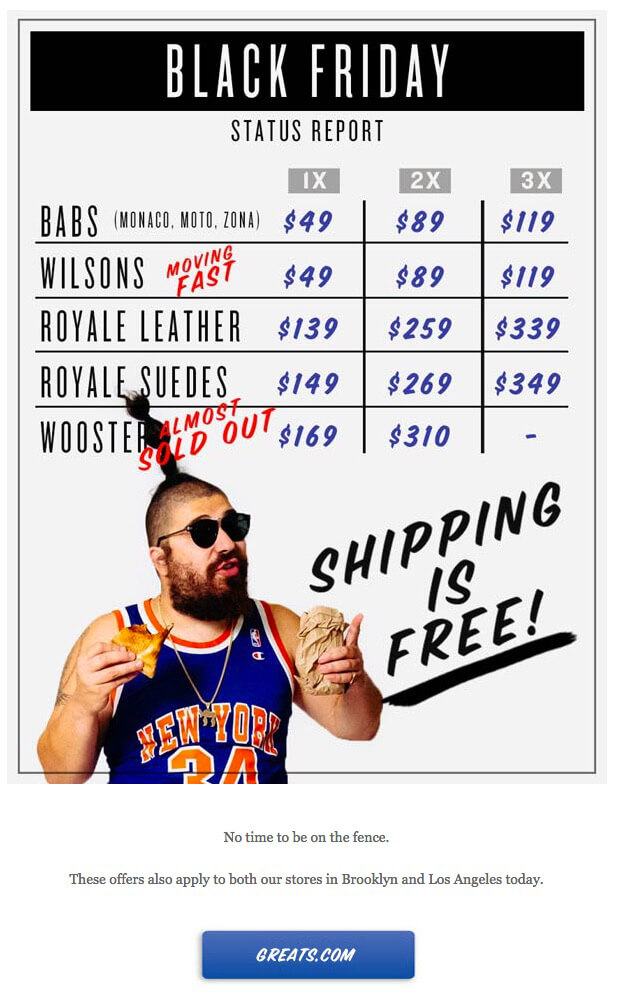 [Source]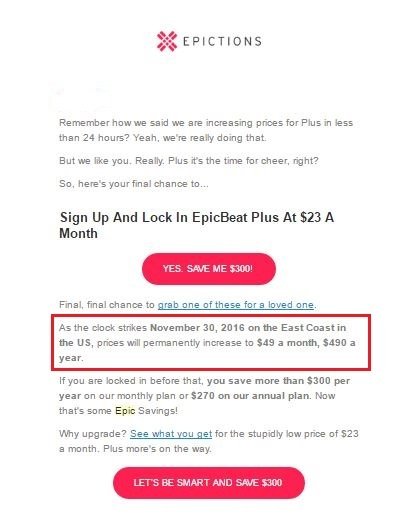 7. Make it memorable
According to a study by Litmus, only 21% of consumers reported that they've received a memorable promotional email in 2015.
Even though holidays are generally the most happier part of the year, it can get a bit hectic and overwhelming. By making your email campaigns funny and warm, you will be able to make an impression and brighten the reader's day. Consequently, they may end up clicking or engaging with us.
Doesn't matter if it is just a thank you or a holiday greeting, make it memorable. Spend some time, be a little creative. Don't do the same thing every year, even though it succeeded earlier. You subscribers may feel bored.
The most important point – ensure that it fits into the holiday context.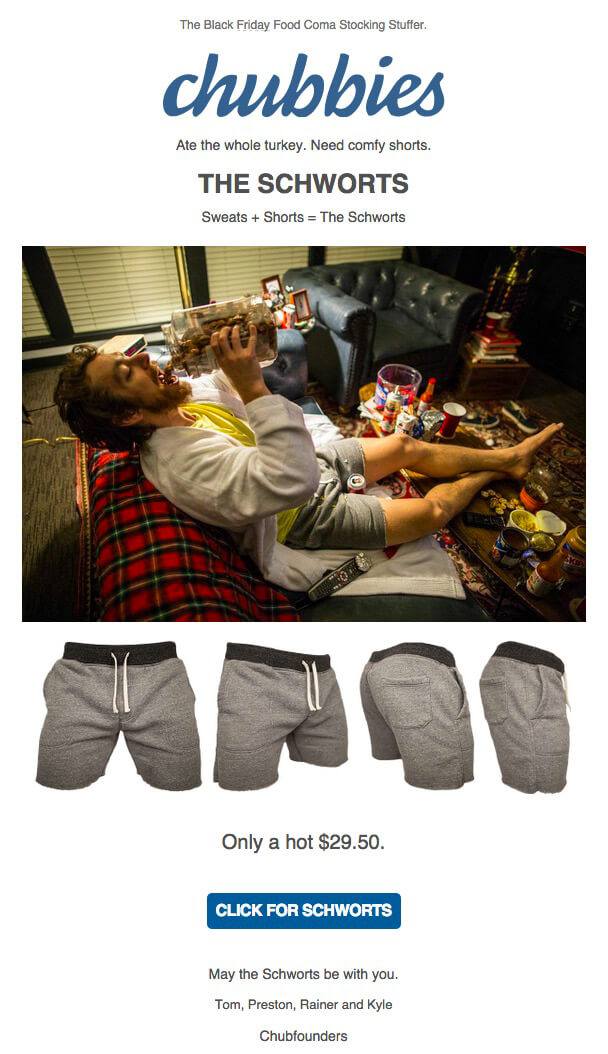 [Source]
8. Offer something in return
This is a guaranteed way to increase engagement. Plus, it is a great way to reinforce your relationship with your subscribers. Sending merely a thank you email or a holiday greeting may not fetch you the kind of engagement you are looking for.
Instead, offer them something. It could be holiday gifts or special discounts and coupon codes or a contest. The aim of the campaign should be to lower the barrier to engagement.
Here are a few tips to keep in mind:
Personalize – the offer should be framed in keeping with user's search behaviour, purchase behaviour or items in their wishlist. This ensures that you are offering something that they actually care about.
CTA needs to be prominent and should encourage readers to take that next step.
Develop a sense of exclusiveness by making the users feel that they have been rewarded for their loyalty and the usage of your service/product.
9. Make your emails shareable
There is no denying the fact that social media has become an important part of our life. Most of us log into at least one of the social networks almost every day. Around the holiday season, a lot of people use it to wish one another. Plus, 64 percent of holiday shoppers use social media to find out gift ideas.
So, shareable emails are a great way to make the most of your holiday email engagement. It increases the reach, makes it easier for your campaign to go viral and attract more clicks. Additionally, it will help your business reach an audience that is very similar to your existing customer base.
To make sharing more tempting – offer an incentive, and let them know about this clearly in the email body.
Check out this example from TheSkimm.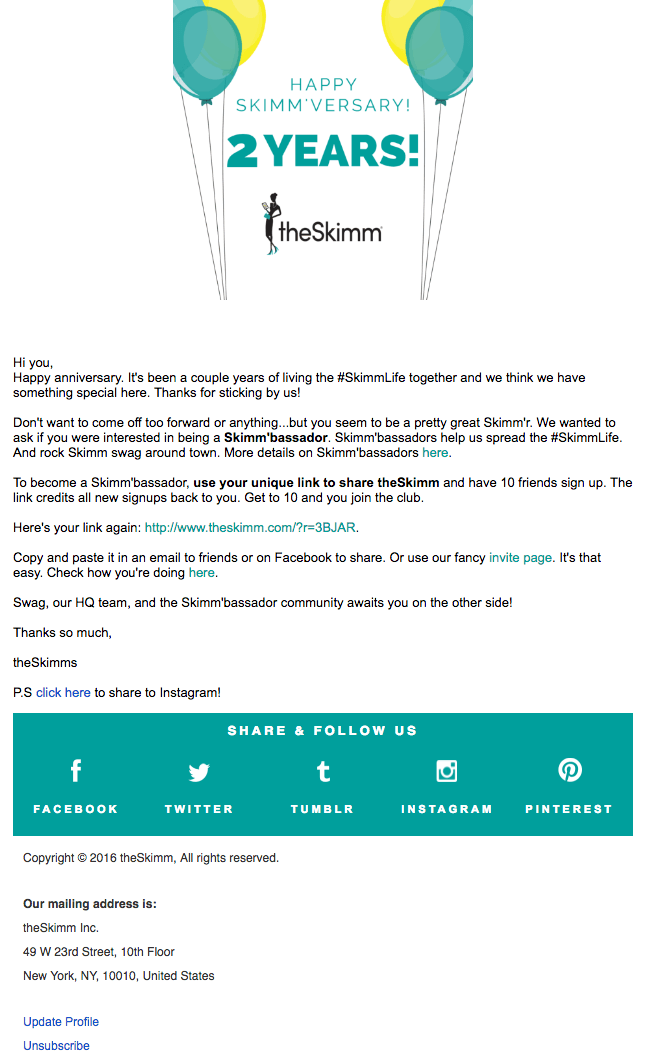 [Source]
Here's a guide on how to add social sharing buttons to your email marketing campaigns.
10. Variety content
The best way to get noticed is to offer something different, catchy or relatable.
Here are a few ideas to think about:
A direct email from the CEO/founder.
Behind the scene video – create a video featuring your team thanking customers and wishing them happy holidays.
Share a delightful, yet touching customer story.
Make a collage with pictures of your customers using your product.
Compile some of the best reviews that you have received and add them to your thank you email, renewing your commitment to providing top quality service.
Here's an example from FanBridge.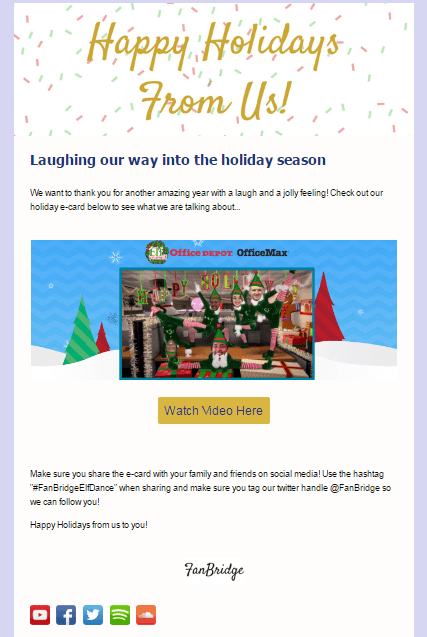 [Source]
11. List-cleaning
This is perhaps the first thing you ought to do before setting up the campaign. Due to the holiday email overload, there is a higher chance of your emails getting marked as spam or getting blocked completely. This can adversely affect the ROI from the campaign.
Hence, go through the available historical data first, identify and filter out bounces and invalid emails. In the case of inactive contacts, check metrics like open rates, CTRs, then segment them accordingly and send them a re-engagement email.
The bottom line – list pruning requires a lot of time and effort. However, it is worth every bit. You will surely see a spike in engagement rates, and improved email deliverability.
Remember – the quality of the list matters more than the quantity.
Resources:
12. Segmentation
According to a study by MailChimp, segmented emails':
Open rate is 14.32% higher than non-segmented campaigns.
Unique opens is 10.53% higher than non-segmented campaigns.
CTR is 85.74% higher than non-segmented campaigns.
Bounce rate is 2.44% lower than non-segmented campaigns.
Abuse reports are 6.00% lower than non-segmented campaigns.
Unsubscription rate is 9.92% lower than non-segmented campaigns.
That really tells you the story. List segmentation is a must for any email campaign, let alone your holiday email marketing campaign. It ensures that your email body is relevant, helpful and adds value. An effective implementation will surely result in improved engagement rates.
Here's a list of quick and easy segmentation strategies to try today.
Conclusion
Most of the above-listed points are holiday-specific and easy-to-implement. Along with them, we should also focus on more fundamental things like mobile responsiveness, powerful subject lines, meaningful alt texts etc. Overlooking even one of them could have a detrimental effect on your campaign.
You may not find enough time to execute all these holiday email marketing tips. So, figure out what could be executed within this limited time-frame, and do it effectively. It would be foolish to do nothing at all, especially with the holiday spending increasing every year. Plus, you will be able to take these learnings and create a better holiday email marketing campaign next time around.
Featured image copyright: entrepreneur.com