Freebies and samples are given away by UK companies as a promotion or part of an advertising campaign. They are trying to attract customers to purchase their products in the future.
LatestFreeStuff is the most popular deals website in the UK. They find these freebie offers and list them on the website. All one has to do is fill in their name and address on the freebie order form and click 'submit'. It's really that easy!
Unlike other freebie giveaway sites, LatestFreeStuff only lists genuine freebies that have been independently verified and are helpful to the whole community. They NEVER post SPAM offers that are designed to steal user's details or pass them onto third parties.
The folks behind LatestFreeStuff have recently launched a new website, LatestDeals.
How critical is Gmail for LatestFreeStuff?
Gmail is the most important channel for them to communicate with clients, brands, and customers.
Their founder Deepak Tailor says 'We use Gmail every day to speak to internal teams and external teams.'
Email is, basically, at the very center of all of their communication.
The problem: Too many emails being forwarded as tasks had led to confusion and chaos
Email comes with its inherent set of inefficiencies – it's not great for task assignment, and it does not make for a great place for teams to work together.
LatestFreeStuff receives a wide variety of email requests through their contact form – requests that need to be attended by various departments.

For instance, before LatestFreeStuff started using Hiver, here's how they were managing incoming email requests:
An email arrives at their contact email address.
The email is forwarded to the respective team.
The team acts on the email request and replies to the admin that the task has been finished.
The problems with email forwarding
Time taking – the admin has to forward emails to the teams, they finish the task and reply with a confirmation.
What if the team has a question? They send another email. A lot of tos and fros.
A particular team receives all emails from their contact email address – it becomes very difficult for them to search or track emails from a particular client.
The admin will not know whether an email has been acted upon by the team if they fail to reply to their contact email address – tracking tasks becomes cumbersome.
Everything became really messy after a few months. It became so confusing to look for emails and everyone hated the system. I knew there must be a better way and one day we found Hiver. –

Deepak Tailor, Founder, LatestFreeStuff UK
Here's how the LatestFreeStuff team uses Hiver
1. They set up a few shared inboxes, such as  'Customer support', 'Marketing' and add team members under respective mailboxes.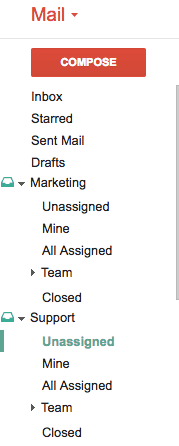 Now when a new customer support request arrives at their contact email address, it is assigned to the customer support team using just two clicks in their Gmail.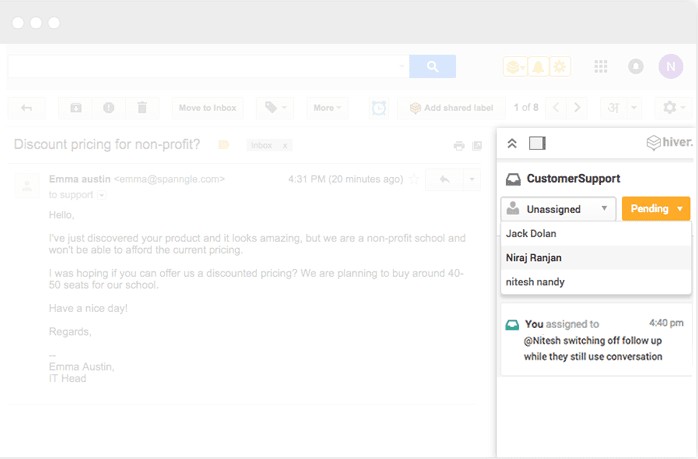 The admin no longer has to send emails to teams; the teams do not need to send an email when the task is completed.
2. The admin, as well as the teams, can track all assigned and pending emails from the sidebar. There is no chaos around tracking the status of requests anymore.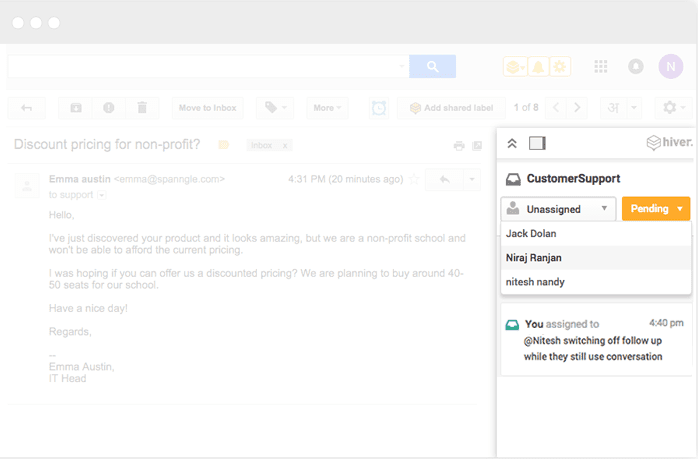 3. The teams write Notes on email conversations if required; notes can be addressed to one person or everyone who uses the shared mailbox.
They no longer have to send emails for every small doubt – saves a lot of time they would otherwise spend on the tos and the fros.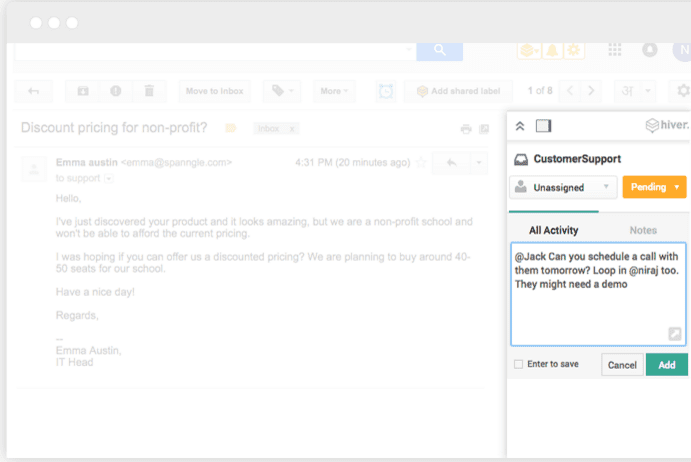 4. The teams can use shared email templates for usual responses. It saves time they would otherwise spend on writing repetitive emails.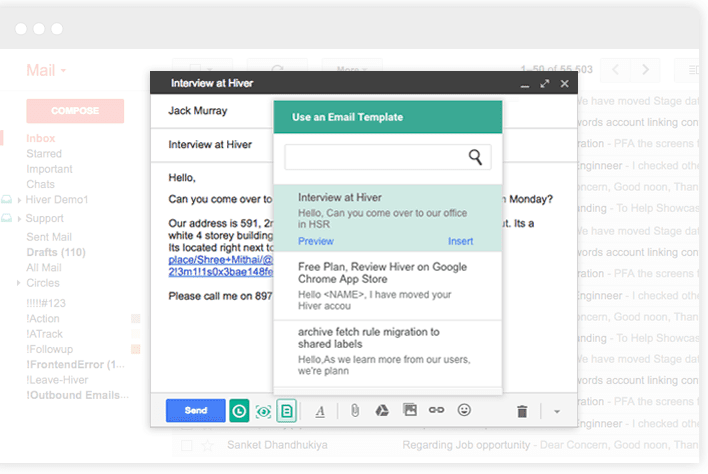 The result: Smooth task assignment and easy tracking
Every email request is executed right-on-time, and there is better coordination among the team members.
Each internal team now always has access to the right emails without any effort. Hiver also connects to Gmail perfectly. It integrates perfectly into the inbox and navigation menus. We couldn't be happier with Hiver right now!

Deepak Tailor, Founder, LatestFreeStuff UK
You might like: Why Hiver is better than Front App