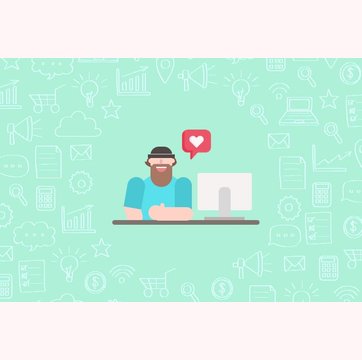 Table of contents
8000+ teams use Hiver to delight their customers!
15 G Suite Features Businesses Absolutely Love
Jun 09, 2023
|
12 min read
|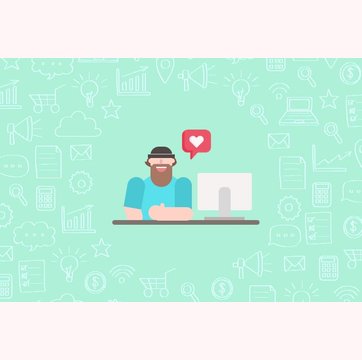 Table of contents
Google's G Suite is a set of communication and collaboration apps that have the power to take your business to the next level.
It's the only service you need to streamline the way everyone in your company communicates and collaborates on important tasks and projects.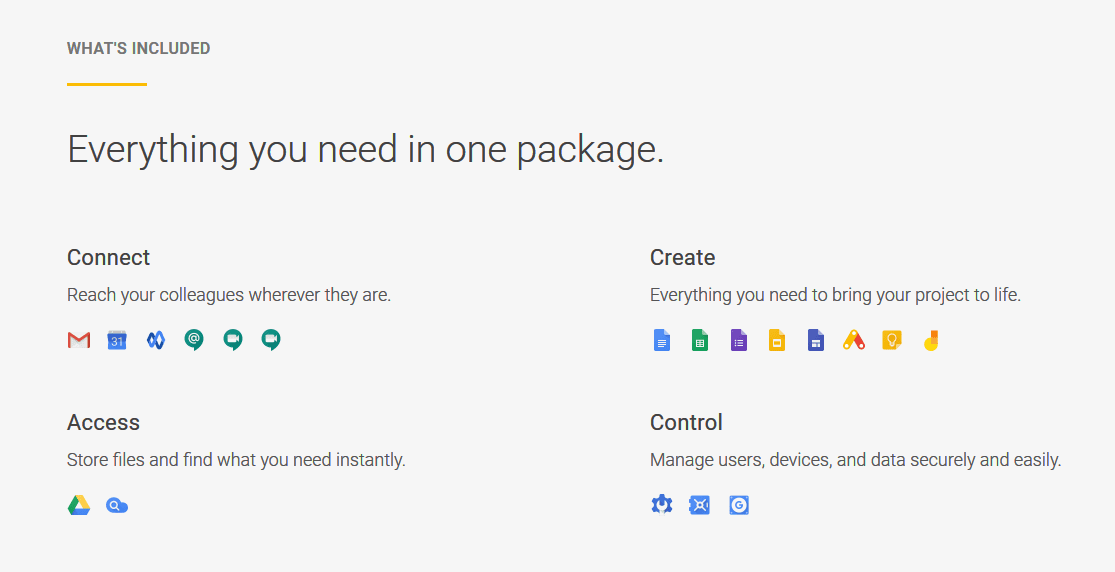 In this article, we'll share 15 of its top features.
Knowing this is useful especially if you are confused whether getting G Suite is the right decision to make for your business, or want to know how it stands out among competitors like Microsoft's Office365.
With that being said, let's explore G Suite and look at its 15 highlight features.
Let's dive in.
Table of Contents
1. Professional email addresses for every user
Did you know that 72% of customers prefer communicating with a business via email?
You, and other employees in your company already probably know this – and actively use your email to talk to customers, suppliers, vendors, clients and more.
As such, the email address you and your employees use matters a lot.
That's why the number one feature of G Suite is that it gives you the ability to provide yourself – and any employee you choose – a 'professional' email address.
Here's the difference between a regular and a professional email address:
A regular email address ends with @gmail.com or @yahoo.com. A professional email address ends with @yourcompanyname.com.
For example, your personal email address could be [email protected]. But your professional email address (that you can create on G Suite) gives you an email address like [email protected] or [email protected].
The benefit of a professional address given by G Suite is:
You promote your company name

: The professional email you and your employees use ends with '@yourcompanyname.com', not '@gmail.com' or '@outlook.com'.

Customers take you seriously

: When customers see you have a proper website and domain name (as shown by your email address),they take your emails more seriously.

Email marketing becomes easy

: If you have a professional email address, you can send emails without the fear of them falling into spam folders.
Recommended Reading
2. Enterprise-grade Google Apps that work in harmony
In G Suite, you get high-quality Google apps that you already probably love and use.
For example, you get Gmail, Google Drive, Google Calendar and more.
But what you don't know is that G Suite's version of these apps are more powerful – and have enterprise-level features that aren't available in free versions of the same Google apps using by the majority of people.
Let's take Google Calendar as an example.
In the free version, you get one calendar in which you can schedule important meetings, note down important events, and more.
But in the G Suite version, you get not one, but multiple calendars – with each calendar having its own members, schedules, meetings and more.
This feature i.e. multiple calendars is especially useful if you have multiple departments or branches within your company, with each requiring a different calendar to schedule their day.
Similarly, with Gmail: In the free version, you only get a regular '@gmail.com' email address, no group emails, and an inbox which features ads.
But, in the G Suite version of Gmail, you get professional email addresses, group emails, and an ad-free inbox.
3. Double the Cloud storage for every user
Everything you do in G Suite gets stored in the Cloud. This includes:
Files in Google Drive.

Emails and drafts in Gmail.

Conversations in Hangouts Chat and Google Groups.
And since you're in a business, you're constantly creating new files, sending new emails and having new conversations. And because of this, storage can fill up pretty fast…
… only if you're using the free version of Google Apps, because in it, you only get 15 GB of storage per user.
But in G Suite?
Well, its basic plan starting at $6 per user gives you double the cloud storage i.e. 30 GB per user. And if you subscribe to the heftier business and enterprise plans, you get an absolutely humongous 1 TB (1000 GB) storage per user.
Plus, any files you create and store using Google's own Docs, Sheets or Slides apps won't take up space, which is an added bonus!
Recommended Reading
4. Powerful Cloud search that works across apps
Every employee in your organization will communicate with many different people. Emails, chats, documents and more will be shared across many times over. As such, finding the right files, conversations, and people manually can be a difficult process.
This is where Google Cloud Search comes in.
This feature makes it possible for you, and every other user with a G Suite account to search across all your apps for the right information quickly.
As an admin, you'll be able to search for every single information in your own – and your users G Suite accounts. Your users, on the other hand, can only search for information which they have the right to access.
5. A marketplace that helps you discover thousands of G Suite compatible apps
G Suite's coolest feature that separates it from the competition has got to be its G Suite Marketplace.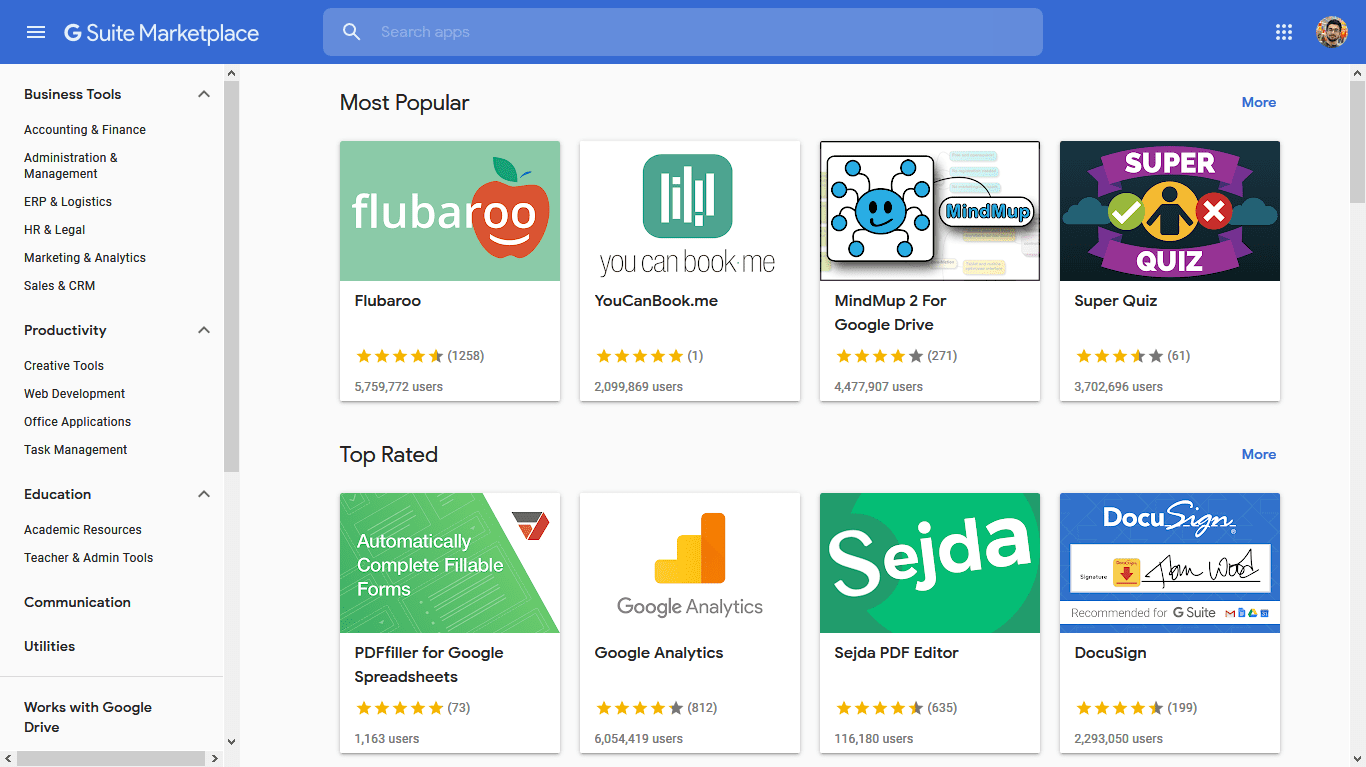 This literally is an app store which you can use to find thousands and thousands of apps that integrate with G Suite.
There are many types of apps available. You can find accounting apps, CRMs, educational apps and more.
For example, you can either integrate full-fledged apps like Slack, Freshbooks and Survey Monkey. Or you can integrate with add-ons like Google Translate, Zoom for Google Calendar and more.
Overall, the marketplace is huge and includes apps for lots of G Suite apps including but not limited to Google Drive, Docs and Gmail.
In the same G Suite Marketplace, you'll see sections which start with 'Works with…'. In these sections, you'll find 'add-ons' that can connect to your G Suite apps and enhance their functionality.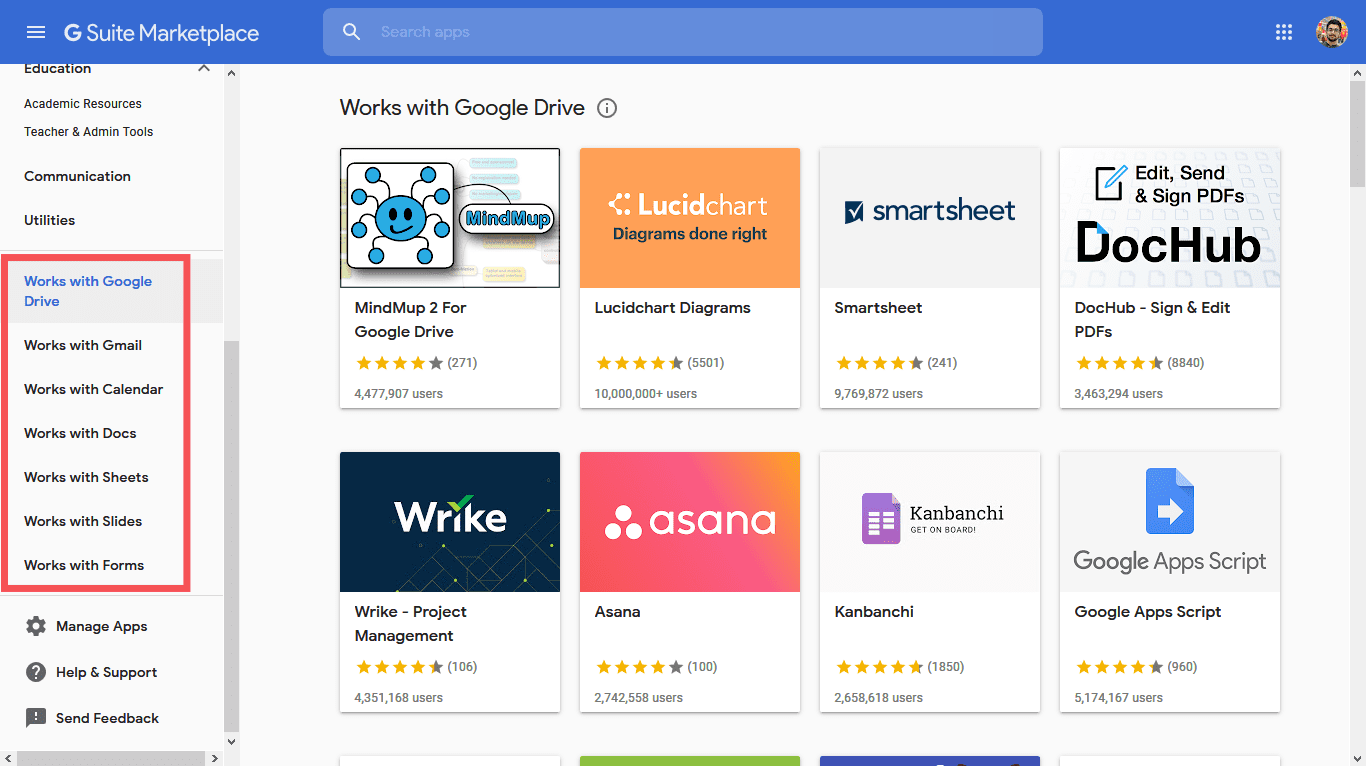 For example, in the 'Works with Google Drive' section, you can find add-ons that can help extend the functionality of Google Drive. For example, the MindMup 2 For Google Drive add-on can help you create mind maps right from within Google Drive.
Similar add-ons are available for Gmail, Google Calendar, Docs, Sheets, Slides and Forms.
6. Flexible user accounts management
In your G Suite account, you can create as many users as you like. And each user can have their own email address.
Once you create a user account in your G Suite admin panel, you can choose which Google Apps that user can use inside their G Suite account.
In addition, you can put multiple users inside a group and manage those users on a group level as well. You can give them permission to share files and send messages with that group's members-only – or of those groups and people whom you want.
Plus, you can track each user's activity (inside their G Suite account you created) and see what emails they have sent/received, what conversations they're having, the files there are creating and interacting with – and more.
7. Ability to manage data with Google Vault
You and your employees will be talking about sensitive information, and handling sensitive files and folders. And all this sensitive data will gradually build up over a period of time in your G Suite account.
As such, you want to keep this data safe, and make sure it is handled perfectly and is easily accessible should you need it to solve an important company issue or legal matter.
And this is what Google Vault can help you.
You can use Google Vault to:
Retain data for a specific period of time.

Put data on hold so it can't be accidentally deleted – even by yourself.

Search and export data such as files, emails (including those in spam, trash, and drafts) and conversations.
Available in the Business and Enterprise G Suite plans, Google Vault inside G Suite is the perfect tool you need to manage your business' data.
If you manage G Suite for your organization, you'd find this useful: Google Vault: 6 best practices for Admins
8. Add additional services to your G Suite account
By default, you only get a limited number of apps in your G Suite account, especially if you are subscribed to the basic plan.
However, a time may come when you want additional apps and features without subscribing to a completely new plan. Thankfully, you can do that easily in G Suite.
All you have to do this go to your admin panel and navigate to the 'Add New Services' page.
Here, you can choose from many apps and services (both paid and free) – and simply add it to your account.
You can get services like:
Google Analytics.

Google Vault.

Google Cloud Search.

Google Drive Storage.

YouTube.

Blogger.
… and much more.
These services can be enabled for as many users as you want.
9. Ad-free and mobile responsive apps that work offline
The biggest benefit of using G Suite is that nearly every single app you use on your PC/Laptop in your browser – also works on mobile.
It doesn't matter which phone you have. Whether it's an iPhone or an Android smartphone, there are high-quality, extremely polished, and beautifully designed G Suite mobile apps for both kinds of phones.
This gives you the added benefit of being able to remotely do your work no matter where you are and what PC you are using.
Plus, you don't need to install any apps on your PC as well to get full functionality. All the software, especially Google Docs, Sheets and Slides is available online.
And if you don't have a PC, you can quickly move to work on a tablet. And if you have just your phone, you can easily install the necessary apps (including the G Suite admin panel) and get to work.
Oh yes, did we mention that all G Suite apps are ad-free as well?
10. Security Dashboard that shows you how safe your G Suite environment is
With time, your G Suite environment will expand to include more users, more emails and more files. As such, you will want to know how safe your users and your G Suite data is.
For that, G Suite provides users with a security dashboard.
In your security dashboard, you can monitor your entire G Suite account and keep an eye out for any security compromises you may have faced. The benefit of this is that you will know which areas of your G Suite account are compromised – and need additional security.
Here are some examples of the kind of reports G Suite's Security Dashboard can give you:
How many spam messages, malware, and phishing emails were sent to users in your G Suite account.

How many failed password attempts were made for a particular account.

How many activities are being done from compromised devices i.e. a jailbroken iPhone or rooted Android
… and more.
All in all, the Security Dashboard includes 10+ reports whose incidents you can sort by days, weeks and months.
Once you find security threats, you can take action from within the dashboard. For example, you can remove spam messages, turn off file sharing and turn on 2FA (2-Factor Authentication) for your users.
You can always check out this security checklist for solid advice on G Suite security.
11. Ability to assign users different roles
If you feel managing your G Suite environment is taking up too much of your time, you can delegate certain G Suite related tasks to other colleagues in your company that you trust.
There are two ways you can assign a role to a user:
Pre-defined Roles: In your admin panel, you'll see that certain roles are already available that you can assign.

Custom Roles: You can create custom roles for a user which gives them access to the exact features you want.
If you want to give the user total control of your G Suite environment, you can grant them the role of Super Admin.
If you want to give a user control over a certain organization or group, you can give them the role of a Group Admin.
And similarly, other roles like User Admin, Services Admin, Mobile Admin and more are available by default so you can safely delegate management tasks to your employees without giving them too much control over your G Suite account.
And if you'd like to give a user a role that isn't pre-defined, you can assign them custom privileges.
In custom privileges, you can allow a user to take certain actions and restrict them from performing others.
For example, you can give a user the ability to search and export data in Google Vault, but restrict them from holding data or looking at audit reports.
That's the level of flexibility you get in G Suite when it comes to assigning roles to users.
12. Access transparency for Enterprise users (that shows what actions Google staff takes with your data)
When it comes to monitoring user activity, no tool does it better than Google's G Suite. In a few clicks, you can find out who is typing what emails, sharing which files and changing what settings.
But do you know that if you are an enterprise user, you can also monitor what actions the Google Staff is taking with your data?
That's right.
Whatever action Google takes with you data, you can see it in your logs.
The complete information you get is:
The data on which the action was taken

Details as to what action was taken – and when.

The reason why the action was taken.

The information about the staff member who took the action i.e. their location etc.
And if you have objection over an action a Google Staff member took, you can contact Google Support and ask for more details on why the action was initiated.
But more often than not, the reason Google Staff takes action is that you or one of your users with the relevant privileges initiated the request.
13. Spam, Malware, and Phishing Detection
In G Suite, you and your employees will be constantly sending and receiving files and emails.
The problem is not all files and emails will be safe. Some emails will have spam, malware and will be created in a way to enable phishing.
This is risky and you may lose sensitive information to malicious third parties.
To prevent this from happening, G Suite uses an advanced machine learning-based scanner to find and detect harmful files, emails, and attachments.
According to Google, they:
Have a 99.99% success rate for identifying spam messages.

Automatically scan all emails for viruses – and block files with malicious extensions like .BAT, .CMD, .EXE, .MSC, .MSI and more.

Can identify new phishing sites thanks to their advanced machine learning models which looks for common tell-tale signs prevalent in most phishing sites.
And since everything is stored (and runs) in the cloud, you can be sure your computer, phone or whatever device you're using G Suite on – remains virus-free.
14. Choose a specific region to store G Suite data
A very underrated feature of G Suite is that you choose where your G Suite data is stored.
This is especially useful if company policy, country law or other types of enforcement forbids you to store your own and your employees' data in specific regions.
The apps whose data you can move to different regions are:
Calendar

Drive

Forms

Gmail

Google Docs, Sheets, and Slides

Hangouts Chat

New Sites

Forms
You can either choose for your data to be stored in the U.S., across Europe or globally.
Plus, any time you change data regions, your data stays available without any downtime.
15. Prevent sensitive information from leaking in Gmail and Drive
In your business, you may handle sensitive customer data. For example, if you run an online store, you will be collecting credit card information from your customers. Or if you operate a travel company, you may have a list of passport numbers of your clients.
As such, you'll want to prevent this data from leaking out.
And that's exactly what Google's DLP (data leak protection) service inside G Suite does.
It scans the data a user shares inside Gmail or Google Drive – and if it includes sensitive data like credit card numbers or social security numbers – blocks the sharing from happening.
This serves as an extra layer of protection, especially from rogue employees whom you have given access to such sensitive data.
Overall, there are 90+ pre-defined information detectors included which you can use to stop sharing of sensitive information. But if you have other types of information you want to stop being shared, you can create custom detectors as well.
Final thoughts
We hope these features shine a light on just what Google's G Suite is capable of.
Whether it's the awesome marketplace, or the cool data prevention feature, G Suite – in our humble opinion – has it all.
To start, you get a 14-day free trial to take G Suite for a spin. If you like it, you can subscribe to one of its three plans. (Here's an exhaustive guide to G Suite pricing)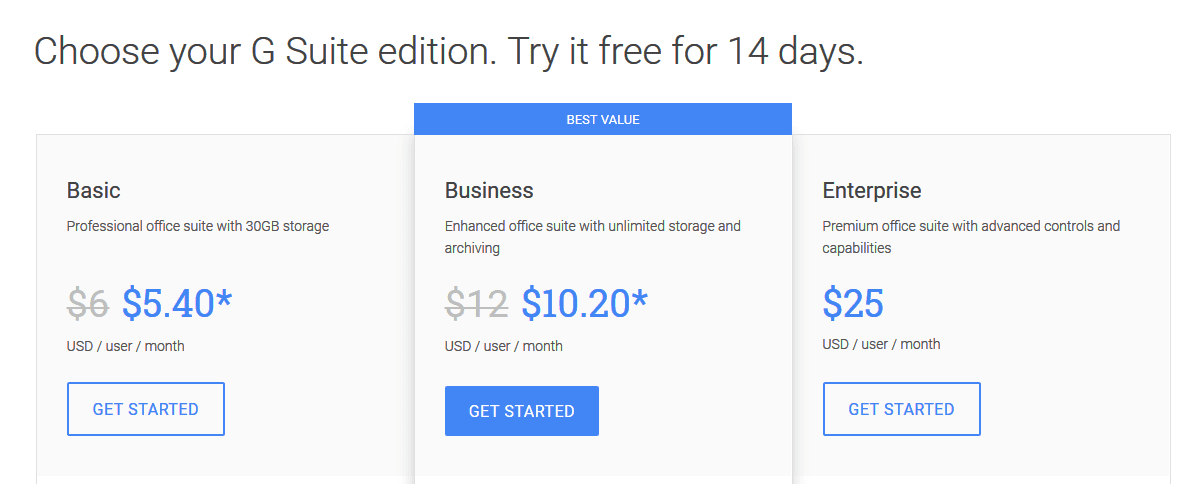 Which feature are you excited to try first?