Facebook Workplace: How it all started
Facebook Workplace: What to expect
Facebook Workplace: The GOOD
Facebook Workplace: The BAD
The amount of time people have collectively spent on liking and commenting on Facebook posts amounts to 3.5 trillion dollars worth of wasted productivity so far.
'Distractions caused by Facebook at workplace' is a recurring phrase which has found its way from serious newsroom discussions to funny memes.
Obviously, folks at Facebook wanted to change this image. Efforts were made to reverse the role of Facebook — from distractions to becoming part of team interactions.
This sparked the vision for Facebook Workplace.
The genesis of Facebook Workplace
2014 – The idea. It started with the idea to channelize the tendency of team members to browse through Facebook during work hours into better productivity and collaboration.
2015 – Rolling out the beta version. Initially, the beta version was named Facebook at Work. It was rolled out for only a handful of companies. This made sense since the social media company was entering new terrains.
2015 – First of many. In mid-2015, Facebook at Work acquired its very first client, The Royal Bank of Scotland. Adding 100,000 employees as new users, it was a big fat win for the collaboration platform.
2015 – Backlash. Facebook at Work saw a huge backlash from team admins and employers. The product name appeared to suggest teams could easily access their social profiles during work hours. For the sake of clarity, the name was changed to Facebook Workplace.
2016 – Born, officially. In October of that year, Facebook Workplace desktop and mobile versions were officially launched. This marked Facebook's entry into the enterprise software market, competing against titans like Slack, Microsoft teams, and Asana.
Facebook Workplace: What to expect?
Change the way you work isn't just a tagline, it's what Facebook Workplace aims to do. Facebook revolutionized social interactions, Workplace aims to do the same for team collaborations. With 14000 companies using Workplace, achieving the milestone doesn't seem to be a ludicrous idea after all.
This is what many of its clients expect from Facebook Workplace: A platform which encourages collaboration by making it fun and engaging along with being user-friendly.
If you plan to add yourself to the client list, here's what you can expect from Facebook Workplace.
1. Relatable interface
According to Kerry Flynn, a business reporter at Mashable, the Workplace interface is 95% similar to that of Facebook.
Most of the popular Facebook features have been imported into the Workplace interface:
Newsfeed.

It will display all team activities on your wall. This includes posts by group members, company events, and all the information related to your work.

Live tools.

Features like Live Video are available.

Groups.

Admins can create Workplace groups, keeping all the team activities at one place.

Messages.

Called as Workplace Chat, members can send direct messages to coworkers and other teams.
However, relatability also raises some concerns. We have been conditioned to accept Facebook as a fun, non-work kind of tool. This might be a problem for teams to accept Workplace as a serious professional tool.
2. No ads
It wouldn't be much of a productive tool if you had large banner ads running alongside your professional newsfeed.
Facebook has claimed to revamp their revenue model for Workplace. Instead of making money from Facebook ads, they have focused on per user model — popular among enterprise software, but a completely new domain for the social networking giant.
The first three months of Facebook Workplace is free for companies, after which they will be charged based on the number of users.
Up to 1000 user: $3 each

Up to 10,000 users: $2 each

More than 10,000 users : $1 each

Workplace subscription is free for non-profit and academic institutions.
But, is competitive pricing enough? Only time will tell.
3. Data is owned by businesses
The privacy policy clearly states that all the data will be owned by clients. However, looking at Facebook's track record in data security measures, critics are skeptical.
But, the biggest concern was that Facebook profiles would mix up with Workplace profiles. That's why we have LinkedIn right?
Facebook was quick to understand these apprehensions and came up with the idea to separate one's Workplace profile from their Facebook profile. This way all your Facebook photos, updates, and activities remain exclusively within your social network.
4. No binding contract
Till now, Facebook Inc. hasn't imposed a binding contract to any of its clients. If clients are not satisfied, they can cancel the subscription right then and there.
The 'no strings attached' feeling has made businesses comfortable in adopting the new platform. A strategic move to counter other platforms that demand a notice period.
However, companies will be rendered helpless when things go south. Without a legally binding contract, it will be difficult to sue Facebook Inc. in a court of law. This does raise issues on accountability.
5. Global reach
It comes back again to the fact that Workplace has an interface which is well recognized throughout the world. It's a factor which is certainly going to work for companies who have offices in various countries.
Although some have pointed out that a relatable interface is not the only factor for a platform to have an international presence. When tools like Slack and Asana first launched they had interfaces which were completely new to teams. Irrespective of this, both went on to achieve recognition on a global scale.
So, does Facebook Workplace live to the hype? It's still a question worth thinking about.
The point is, there are things you'd love about Workplace. There are other things that'll take you back to the good old Slack.
Let's dive in to know what it can and cannot do.
Facebook Workplace: The GOOD
Facebook Workplace has something for everyone, from the CEOs to people who never had a desk in their life.
1. Minimum learning curve
With 2 billion active users, it's almost impossible to find anybody who's not familiar with Facebook. By having a similar interface to its parent brand, Workplace has assured a minimum learning curve.
Have a look at the stark UI resemblance between Facebook and Workplace.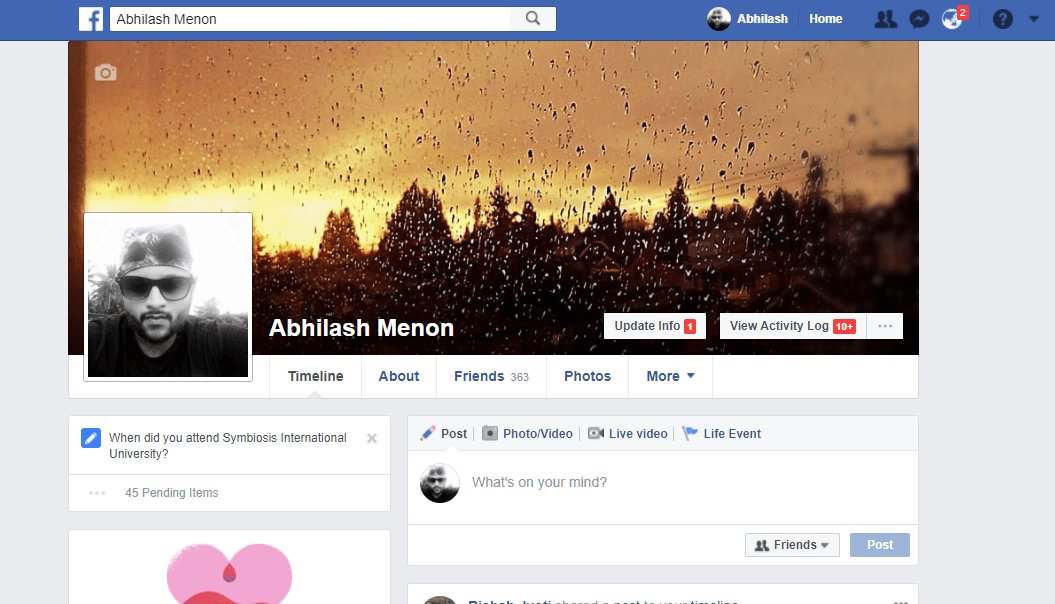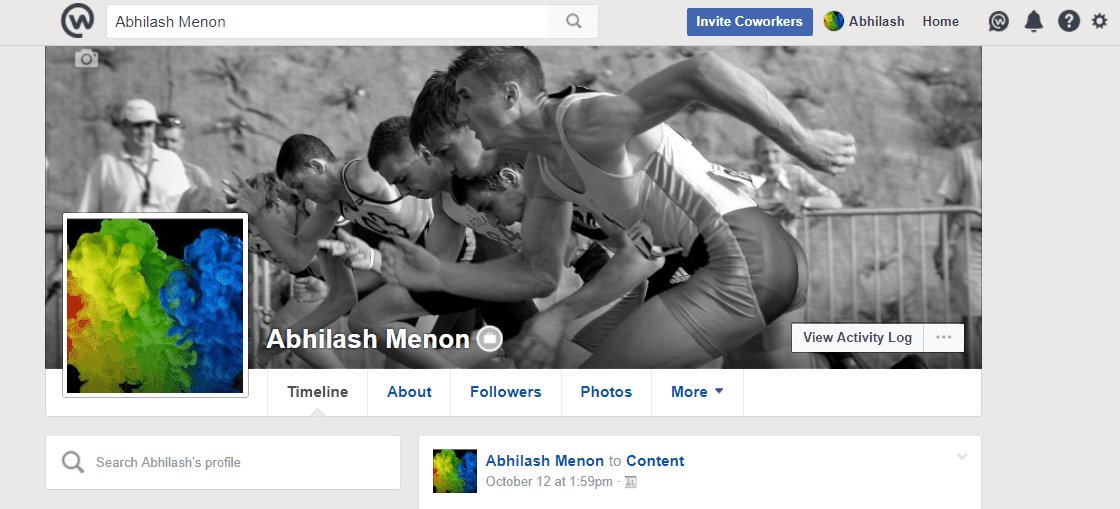 It has been welcomed by employers, who have cut down on their training cost post the 2008 recession. Companies of all sizes are adopting cost-efficient ways to increase team cohesion.
It's pocket training — teams can be trained in the fastest and cheapest possible manner. Businesses can forget about spending on out-of-office workshops or expensive trainers. Use a webcast, run through the essentials, and teams are ready to go.
Basically, Facebook Workplace offers a seamless customer onboarding process.
2. Find transparency on your newsfeed
Ambiguity is the enemy of transparency. 'Lack of not knowing' wasn't a concern when corporate work structures were designed to empower individuals, that time is long gone.
Today, with emphasis on team culture, ambiguity can kill your team dynamics even before it's formed. A lack of transparency would foster distrust, a lot of which is aimed at senior level managers. That's why it's no surprise that a quarter of the American workforce does not trust their employers.
Luckily, Workplace makes sure none of this happens:
It offers a newsfeed which is similar to Facebook.

All the information on the newsfeed will be related to your company and groups.

The improved algorithm ensures the newsfeed is automatically refreshed, displaying the latest information on top.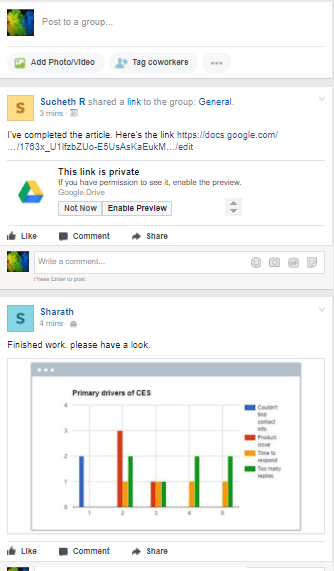 It's a one up from Slack where transparency means clicking on each channel and going through long threads of conversations. As for Workplace, all you have to do is move your mouse or thumb, depending on the device you use.
3. Broadcasting team events
Remember the time when team events were communicated with memos, the ones which put your brain to sleep. Facebook Workplace ensures broadcasting team events is anything but boring.
Live Videos allows teams to create real-time video posts. Members can react to the videos or comment on it. Communicating team events becomes an interactive experience where members can actively engage.

To ensure no event goes under the radar, people can subscribe to get notified every time a team member starts a live broadcast. In case anyone misses the notification, they can always access it on their newsfeed.
The biggest advantage about communicating team events in such a unique fashion is the convenience. Sadly, Slack is nowhere close to this. For teams to broadcast videos, first they need to integrate with Skype. So in case you don't have a Skype account, Slack won't be of much help to you. You might as well stick with the memos.
Starbucks, an early adopter of Facebook Workplace, found an interesting way to use Live Videos. They carry out live stream sessions where the top brass communicates with store managers. In the annual shareholder meeting, CEO Kevin Johnson admitted that connecting with the front line employees has helped them better understand the ground realities of their own business.
4. Team collaboration all in one place
Workplace Groups is where the real action takes place. Companies can collaborate by creating groups around similar interests and invite members.
Workplace Groups are divided into four sections: Discussion, Members, Events, and Photos. Each of which has something to offer.
Discussion
It's where team members can post their views for everyone on the group to see. Discussion board gives team collaboration a solid structure while keeping it interactive.
Structure: One glance at the group newsfeed and everyone is up to date from the latest to the oldest posts. In case you have teams who work in different time zones, choose to schedule posts at a later time. This ensures when they access groups, the latest comment will be right on top of their discussion board.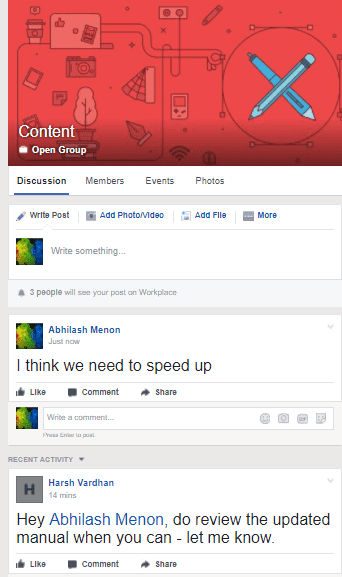 Interactive: Teams have options to post a comment, add photos, files, recommendations, polls, to name a few. Subsequently, members can express opinions on any kind of post with text, emojis, Gifs, pictures, and stickers.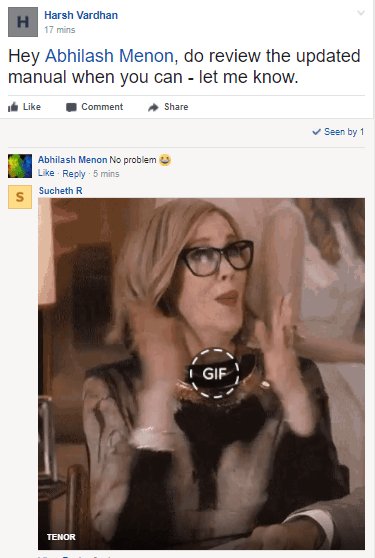 Members
The highlight is the ability for groups to import lists which contain co-worker's contact information. Every member of the group will have access to this information. You no longer have to keep pestering group mates for their contact details.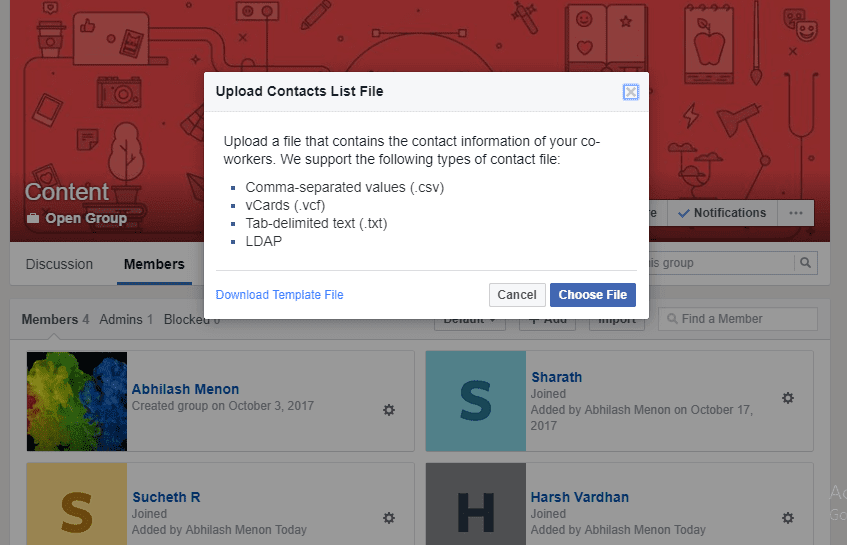 Events
Why limit your use of Workplace to team collaboration when you can plan your tasks ahead of time?
With Calendar, teams and individuals can carry out efficient task management. Create an event for each day, it will come up on your event timeline. To add some fun to your task planner use pictures and videos.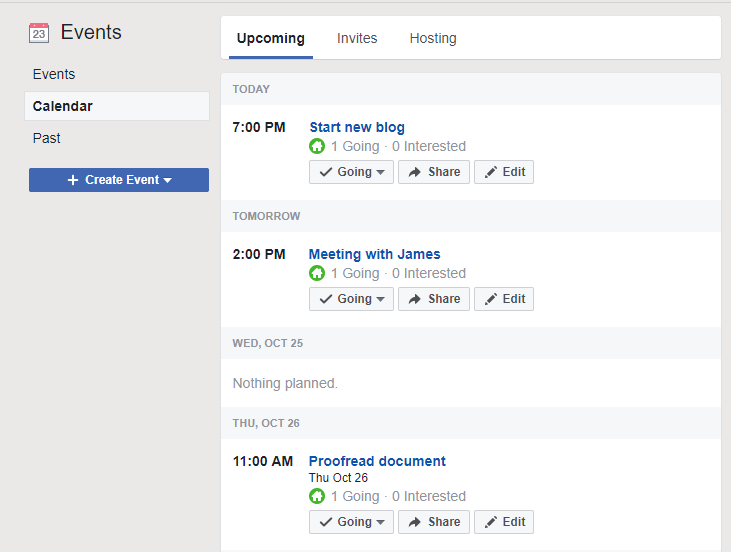 Photos
Teams can upload all their photos and videos which can then be sorted into albums.
Say you want other team members to view the new product design. Create an album with the name 'New product design' and upload all snapshots. Members can easily look them up in the album or use the search bar.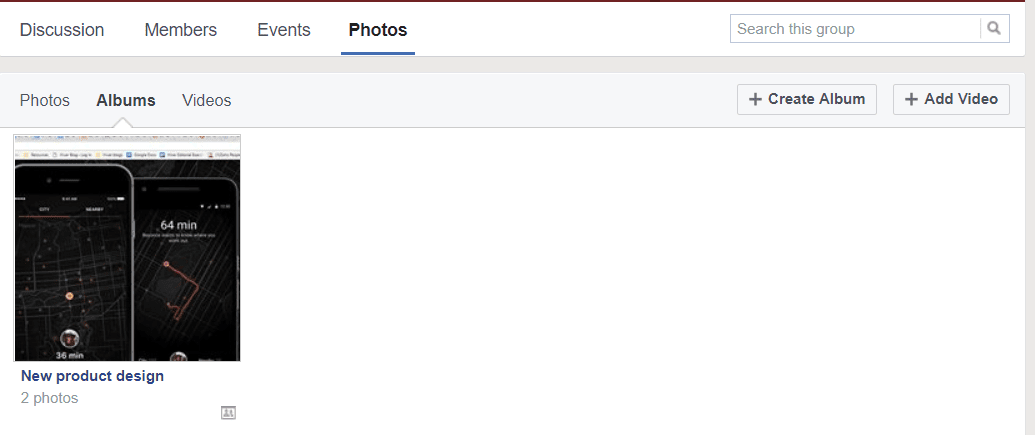 By now you must have realized the similarities between Workplace groups and Slack channels. Their UIs might vary, but their core functionality remains the same.
However, team collaboration does see a hiccup when a channel cannot be shared with another channel(s). Either you have to add a member, share each message manually, or shift the channel to a new workstation. Workplace Group breaks down this tedious process into one simple option – Share this group.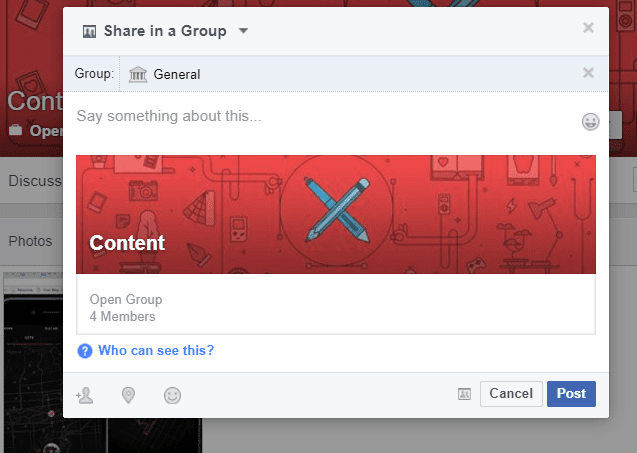 5. Easily Scalable
When was the last time you heard Facebook breakdown? It just doesn't happen.
Workplace runs on the same cutting-edge servers as its parent brand. With memory chips as big as three football fields, the scalability offered is unprecedented. Let me put that in simple words, there is no tool which comes close to competing with Workplace on scalability.
In a time when companies are looking at platforms which can keep up with the intensity of team collaborations, Workplace scores a touchdown.
There have been enough instances where companies had to cut short their deal with various collaborative platforms. Case in point: Uber dropped Slack. The latter was unable to manage simultaneous conversation happening among 12000 of Uber's employees.
This looks particularly bad when you consider Workplace is used by the entire civil administration of Singapore – 143,000 members collaborating together at the same time. That roughly amounts to 11% of the paid user base of Slack.
Facebook Workplace: The BAD
'What's in it for me', a question Workplace hasn't been able to clearly answer yet. It might have convinced employers, but individuals are still wary about adopting the new platform.
1. Integration
After a long wait, Facebook Workplace finally introduced custom integrations. These include new additions to support for cloud storage, chatbot programming, security, and real-time video conferencing.
Users who have never used a collaboration tool might find this impressive. But, seasoned Slack users won't be so generous as they are already used to a well-defined integration system. Bringing in integrations so late into the market leaves Workplace with little competitive advantage.
Director of Workplace, Julien Codorniou and his team were brave enough to introduce custom integrations. But, is it enough to beat Slack's app ecosystem?
The reasons I have my doubts:
No pre-built integration.

IT teams need to put in extra hours of coding for integrations to go live. This amounts to a higher cost of set up.

All basic integrations.

The long wait could have been justified if Workplace had introduced integrations that competitors lacked. Unfortunately, it wasn't the case.

Limited integration capabilities.

Unlike Slack, Workplace users cannot create

zaps

.

This discourages efficient integration with a wide range of apps.
The truth is that Workplace integrations have failed to bring about a competitive differentiation. In fact, 70% of businesses adopting software with limited capabilities fail to improve cost-benefit outcomes.
2. Task delegation is sloppy
In reality, task delegation precedes internal communication. If you do not have a robust system to delegate tasks, members wouldn't know who's working on what. Any conversations among such members won't add much value if anything it will lead to chaos. This is where Workplace shows a red flag.
Facebook Workplace allows three methods to assign tasks, each of them comes with their set of problems.
First: Create posts on the group discussion board. Tag member(s) to whom you want to assign the task.
Problem: Members have to scroll and click through the entire group's newsfeed to look for the task. For big teams, it's like finding a needle in a haystack.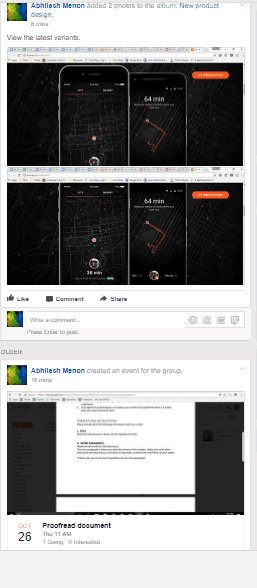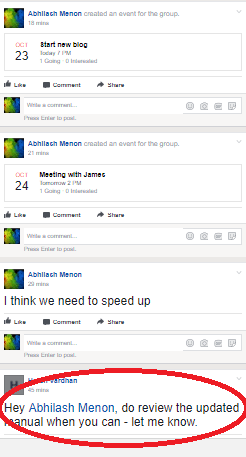 Second: Write a post in member's Workplace profile.
Problem: It creates the same problem as above, except members would be scrolling and clicking on their personal newsfeed.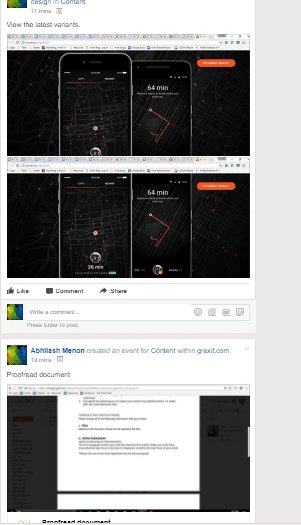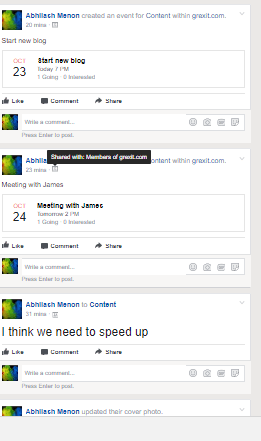 Third: Direct messages to team members.
Problem: Members have to go through a long chat history to look for their tasks.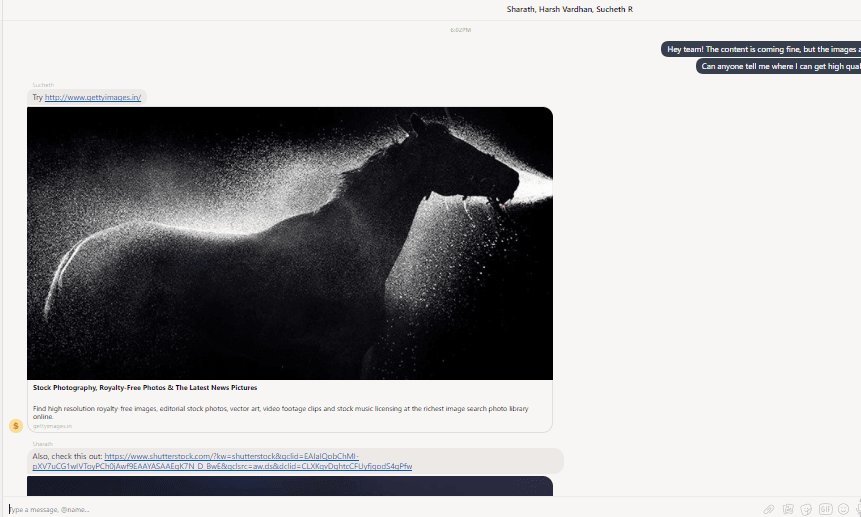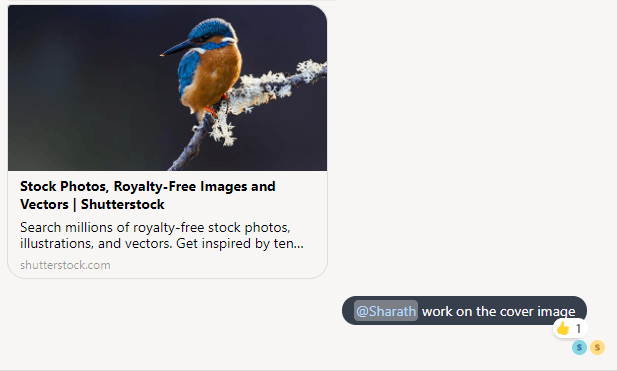 This is accompanied with a poor search capability. You have to type in the full text to get relevant search results. A stark difference from Slack which has an advanced search engine.
3. Video chat with teams, not really
Facebook Workplace doesn't support group video chats. It's a deal breaker for a platform that claims to make team collaborations 'efficient'.
The inability to visually communicate with the entire team in one go brings its own set of problems:
Inability to gauge reactions.

Without understanding body language, it will be difficult know how teams react to a certain piece of communication.

Lack of clarity.

Text or tone cannot provide full clarity. Members might misconstrue information, damaging team cohesion.

Set team meetings.

To ensure clarity, businesses have to splurge on team meetings. Scheduling often tends to be a big problem as members do not have enough time to leave their workstation.
I agree visual communication is a problem for most collaboration tools, but some do get the job done. For example, Slack has rolled out its video call feature. It allows 15 members to video chat simultaneously.
4. Distraction, of course  
Ping. Ping. Ping. Ping.
It's what most teams have to deal with when using Facebook Workplace. You will be constantly bombarded with chat notifications.
It becomes distracting when teams are working on 'time-sensitive tasks'. Team focus gets disoriented, leading to lack of productivity.
Without having any way of stopping these chat notifications, the weight comes onto the companies. Apart from paying for the product, they have to come up with a code of conduct to manage team chats. This puts extra pressure on the management.
On the other hand, Slack provides more downtime to teams. The tool offers 'Do Not Disturb' status option. During this, all notifications will be disabled. However, it's good Slack etiquette to announce when and how long you are going to be offline. This helps teams to be on the same page without any interruptions.
5. Work life balance goes for a toss
Whenever a notification fires upon Workplace Groups, members might feel obligated to respond. With no way to separate important notification from trivial ones, teams will be constantly stuck in their Workplace profile.
This will have a direct consequence on team's work-life balance, leading to team burnout. Such an environment is not at all conducive for team collaboration.
In fact, collaboration becomes a distant reality as most employees don't even turn up for work. Shockingly, 65% of claimed they have taken sick leaves due to stress and burnout.
The future of Facebook Workplace
It's a bit too soon to predict the future of Workplace. Focusing on 'growth before profits' has been working well for the new platform; a star-studded clientele in a short span of time is a testament to this.
However, Workplace has to go beyond just impressing the top brass. It needs to provide features that satisfy users at the individual level. This will enable teams to genuinely engage, making Workplace the de facto tool for internal communication.
To wrap it up, Facebook Workplace has the potential to dominate the enterprise software market if they play their cards right.