Writing the perfect email really is an art that not a lot of people have mastered. It's a pity, as email is now more or less the default communication tool for every business across the world.
Maybe you're new to using email in a business setting, you're just starting up a new email campaign, or you want to brush up on your skills to get the most from your communications.
Whatever the reason, here are ten top tips to help you write the best email, every time.
1. Mail Mentor
The best emails are concise, to the point, and grammatically perfect. When proofreading, though, how do you know that you're doing enough to make that email readable? This neat app will help you get it right, every time.
Simply write your email in here first, and you'll get instant feedback on what needs changing. If your paragraphs need to be shorter, or your language needs simplifying, it will tell you. Then you can edit it to perfection.
2. Proofread Bot
Proofreading your emails doesn't feel like it's too important. After all, it's a quick medium, you simply tap out your message and hit send, right? Well, there is more to it than that. An email full of typos, grammatical errors etc. demonstrates a lack of professionalism and may even annoy your readers.
This tool can help, by taking in your email campaigns and proofreading them to ensure you are presenting yourself well. If you're really short on time, you can always avail custom writing services Boom Essays and Essay Roo.
3. Markdown Here
If you send regular emails, you probably deplore all of the time you spend playing around with the formatting to make it look great. After a while, you've probably found that you've spent more time on editing than writing the email itself.
This tool, which you can download directly into your browser, helps by allowing you to do all your formatting just by typing in the correct commands. Soon, it'll become second nature and you'll halve the time you spend creating emails.
4. Daily Writing Tips
To ensure you stay a good writer, you need to be brushing up on your skills all the time. If that sounds arduous to you, fear not. This site makes learning simple.
The website features, as the name implies, daily tips that will help you with your writing skills. Need to know when to use the right word? How your sentences are becoming too complicated? Or about words ending in -aire? You've come to the right place.
5. Hemingway Editor
Maybe you've spotted that you're making a lot of errors in your emails, and spell check is picking up on some of them. However, you want to improve your work, and spell check doesn't cut it, in the sense that it doesn't tell you what exactly is wrong with your writing.
This app helps by highlighting the parts of your text that are causing problems, and colour coding the highlights to correspond with the type of error being made. Use this app, and soon you'll see a marked improvement.
6. Email Excellence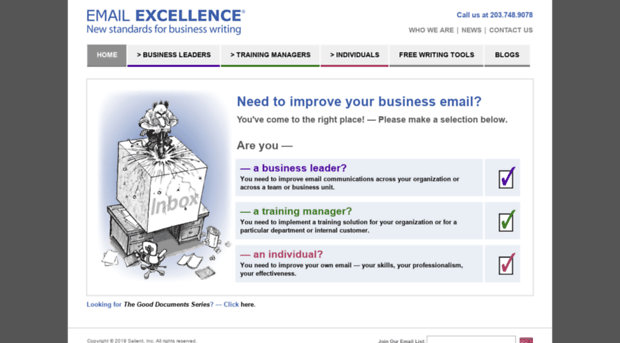 You want to write the perfect emails for your campaign, but sometimes it just isn't possible. Maybe you're busy with other things at work, maybe you can't dedicate a team member to work on it for you, or maybe you just don't feel that confident in your skills yet.
This is where this writing service can help. Send them the details of what needs to be included, and their highly qualified writers will craft the perfect emails for you, quickly.
7. Charlie
When emailing top movers and shakers, it's crucial you get their attention quickly or they'll simply delete your correspondence and move on to the next one.
This tool, when given the info about the person you're about to contact, will trawl through hundreds of sources to give you the inside scoop on them. Find out what matters to them, what's important to their business, and what will grab their attention. You'll show you've paid attention to their wants and needs, without having spent the man-hours trawling through the information yourself.
8. Getresponse
Email marketing in this modern era is nothing short of a nightmare, but this app offers to change all of that.
Download the app onto your iPhone or Android, and when you need to schedule an email campaign try Getresponse. They offer 30-day free trial. Pick a perfect time, email template and schedule an email campaign.
9. Yesware
The best way of improving your email writing skills is to analyse what happens after you hit send. This software shows you who's clicking your emails, how many people are clicking links, and track your reply rates.
One you know what your success rates are, you can see what you need to improve. The software also offers email automation, which is great when you're down to the wire and need to save time.
10. Text Expander
In your emails, you're likely to use the same phrases over and over again, due to the nature of your work. It maybe your contact details, your business's ethos, or the sales pitch for your best selling product.
This app lets you create codes for 'snippets', that expand once you use them in the full text. You'll save time and effort by using them, letting you get your email campaigns out more quickly and efficiently and letting you get on with all the other important tasks on your to-do list.
Bonus tip: In the case of email marketing campaigns and email newsletters, making sure that your content is original is extremely important for your credibility. As a good practice, you should run the content through a plagiarism checking tool such as Noplag.com, before hitting send.
Now that you have all of these tools at your disposal, the world is your oyster when it comes to email. Just see how your reply rates and sales go through the roof once you take a little time to improve your skills and work on making the best first impression, every time.